Everyone deserves a second chance, especially when it comes to waste! Our noissue Recycled Mailers give extra life to plastic waste, turning it into reusable, recyclable, and reliable mailers. We offer 4 sizes for your perfect fit in our famous noissue design.
Get the full details on pricing, lead times, and quantities here.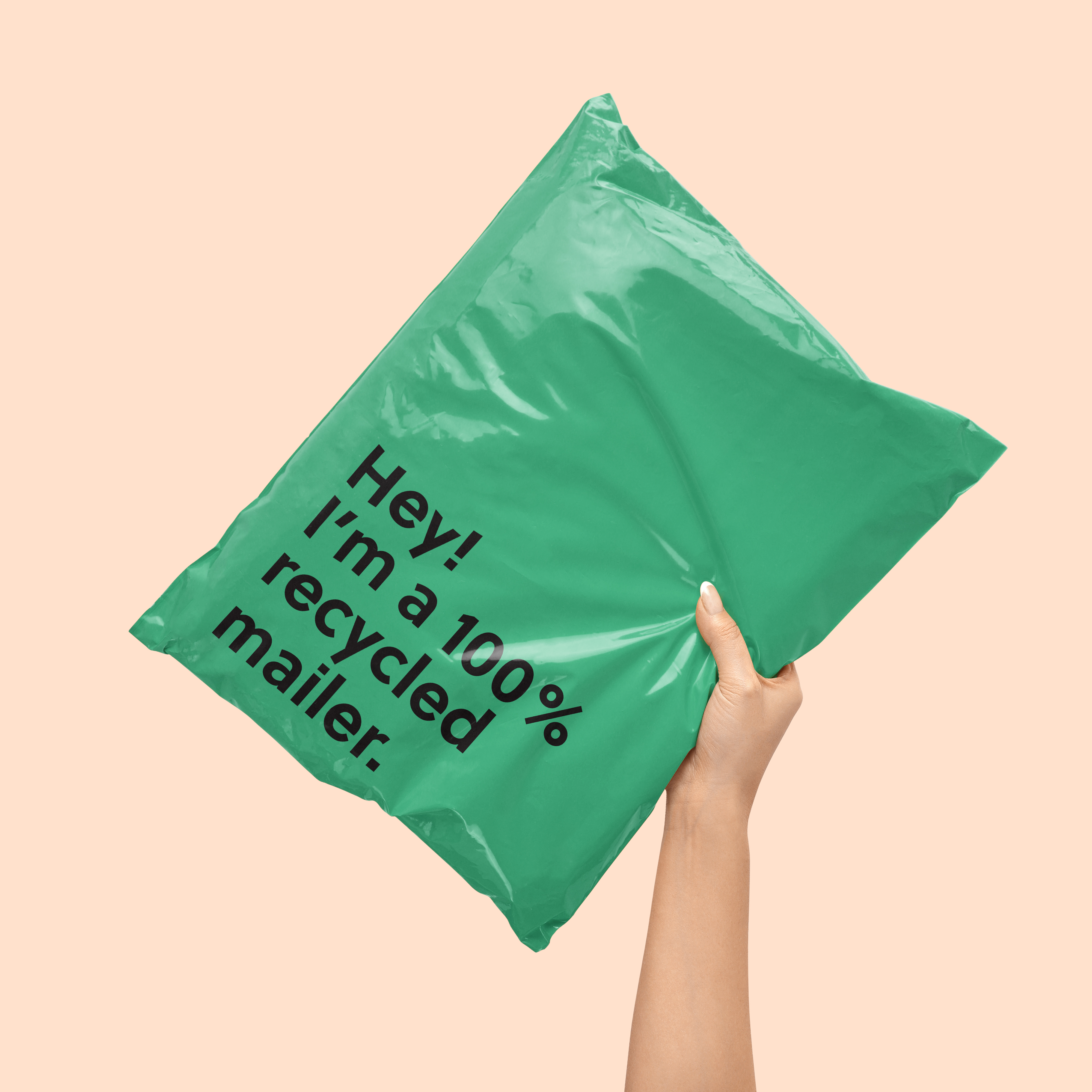 What makes noissue Recycled Mailers eco-friendly?
Made from 100% pre-consumer recycled plastic waste, noissue Recycled Mailers turn trash into treasure, and help extend the active lifecycle of these materials. We also print these mailers using water-based ink to keep them completely recyclable!
If you're not ready to say goodbye just yet, you can also reuse your noissue Recycled Mailer. It comes with 2 adhesive strips to enable easy reuse and to make the most out of each mailer, as discussed in this video:
This makes the noissue Recycled Mailer a circular economy product, which is a term used to describe the continuous use of resources in an effort to reduce waste. You can read more on that here, and you can watch this video on it as well:
What kind of recycled plastic are noissue Recycled Mailers made from?
Our noissue Recycled Mailers are made from pre-consumer recycled waste, which is waste that hasn't been used by consumers yet. This is typically off-cuts, trimmings, and leftovers from other consumer products, and our mailers help keep those out of the landfill for as long as possible! We're hard at work to also use post-consumer recycled waste for our products, so stay tuned!
What do the noissue Recycled Mailers look like?
Clean, bold, and proudly eco-friendly, our famous noissue Recycled Mailer reads "Hey! I'm a 100% recycled mailer." in black text on a green background (PMS 346U). Two adhesive strips allow each mailer to be reused at least once before it's ready to be recycled.
You can check out some images of the noissue Recycled Mailers here!
What sizes and thicknesses are available for the noissue Recycled Mailers?
The noissue Recycled Mailers come in 4 different sizes that can withstand traveling through the post while also adding as little weight to your package as possible:
- 165mm x 230mm (6.5" x 9")

- 260mm x 385mm (10.2" x 15")
- 300mm x 420mm (11.8" x 16.5")
- 370mm x 480mm (14.5" x 18.8")
All 4 sizes of our mailers are 60um/2.36mils thick.
What is the shelf life of noissue Recycled Mailers?
The noissue Recycled Mailers are sturdy and made to last for as long as you need them! If you want to prevent any fading on the ink, we recommend just storing them in the box they come in until you're ready to use them.
How can I sample noissue Recycled Mailers?
Want to see what they hype is about? You can try a sample of our noissue Recycled Mailers by ordering a sample pack here.
Be sure to also check out the noissue Recycled Mailer's best friend, the noissue Compostable Mailer, for another great option!