Make your mark with the
noissue Stamp
! With our eco-friendly, reusable stamps, you can make thousands of beautifully branded impressions on your products and packaging. Choose from 4 soy-based ink colors and multiple sizes for both our manual and self-inking stamps (or get a whole bunch - we won't judge).
Click
here
for the full scoop including pricing, lead times and order quantities!
What makes the noissue Stamp eco-friendly?
noissue Stamps are made from quality materials that have a longer lifespan. The manual stamp is made with wood certified by the Forest Stewardship Council™ (FSC), and the self-inking version is made from over 65% post-consumer plastics, which gives a second life to plastic materials already in circulation. Both stamps come with soy-based ink, so your imprint won't interfere with the compostability or recyclability of the materials you're stamping on!
What types and sizes are available for the noissue Stamp?
We have 2 types of noissue Stamps, each with their own range of sizes.
The manual version is a classic wooden stamp that comes with a soy-based ink pad of your color choice, and it's available in the following sizes:
- 30mm x 30mm (1" x 1")
- 50mm x 50mm (2" x 2")
- 80mm x 80mm (3" x 3")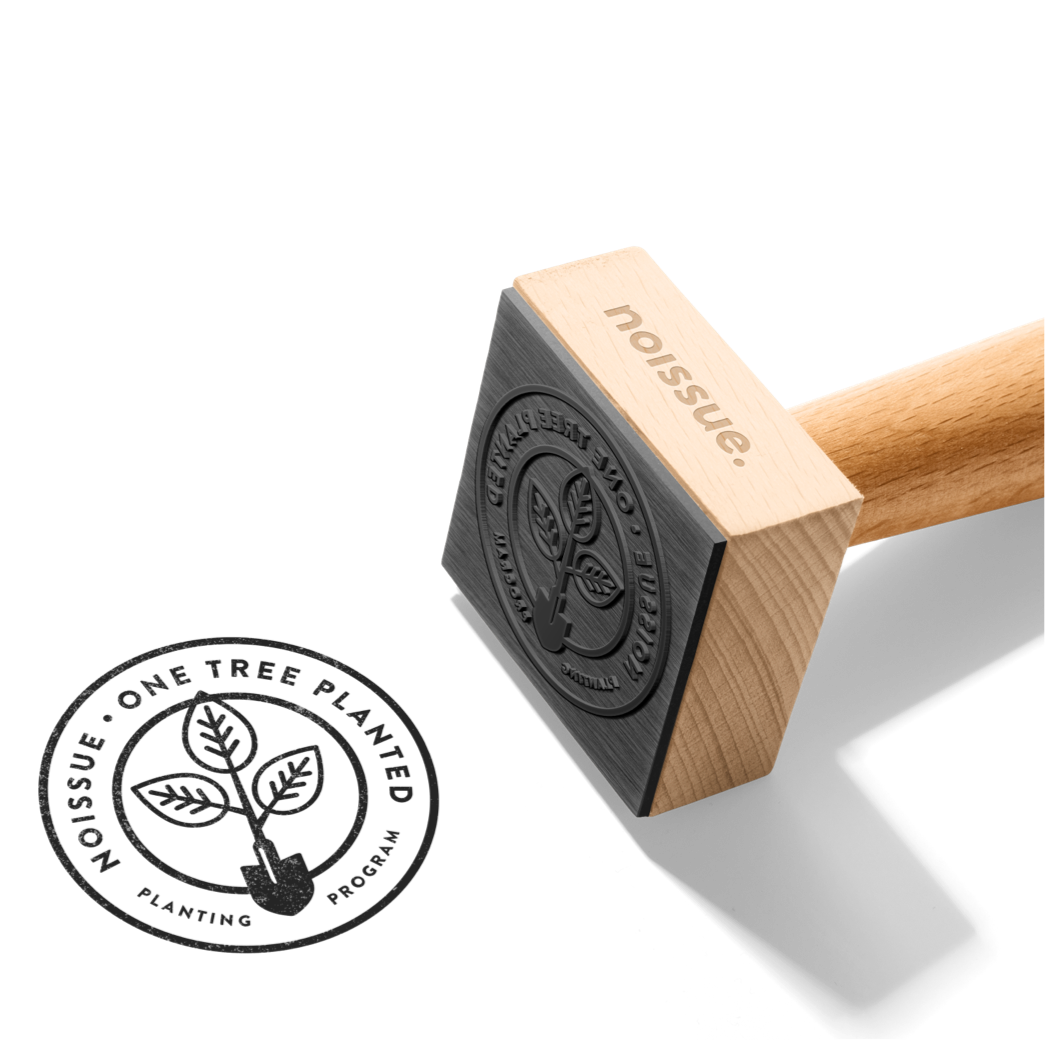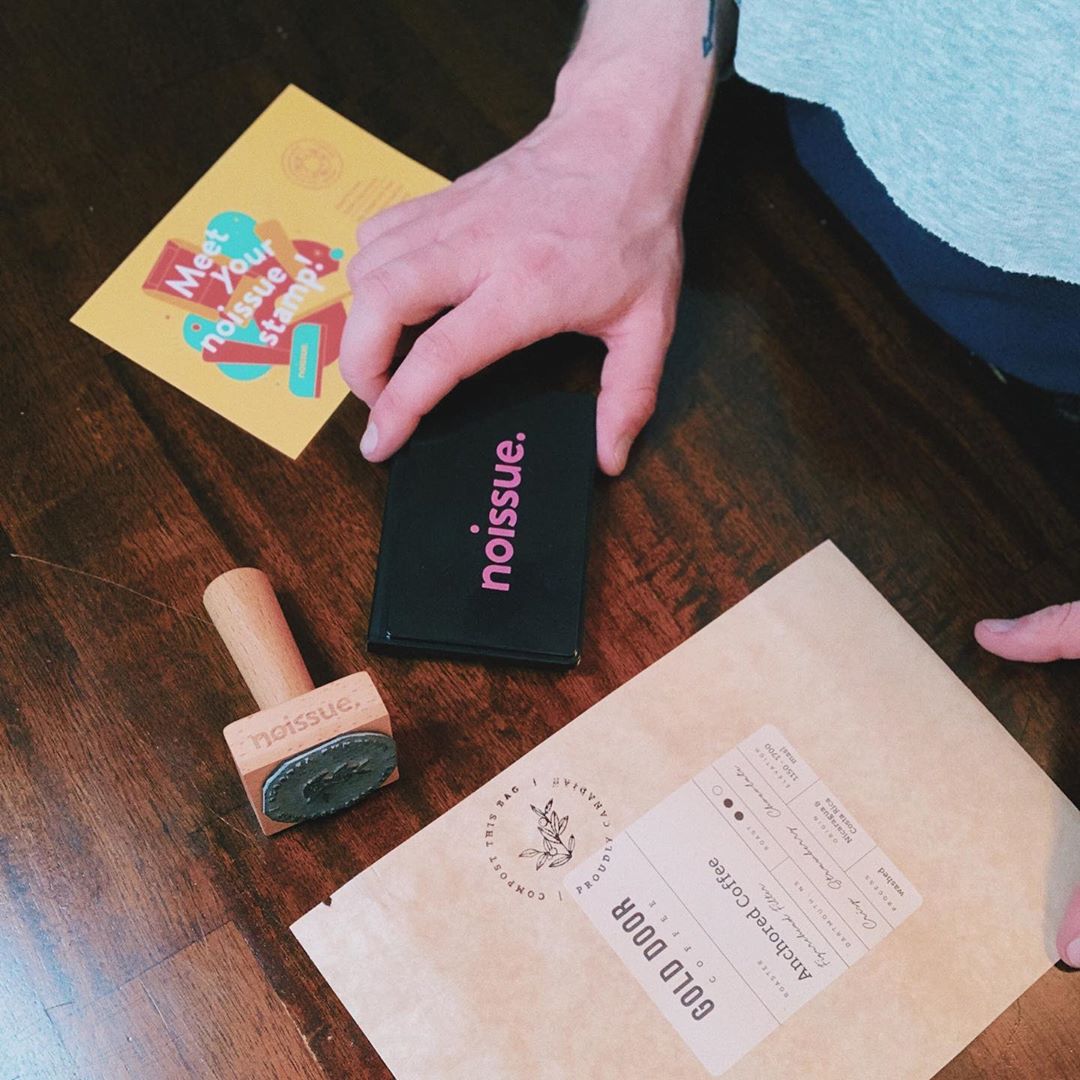 The self-inking version has a ready-to-go ink cartridge of your color choice so you can stamp with one press, available in these sizes:
- 9mm x 26mm (0.5" x 1")
- 22mm x 58mm (1" x 2")
- 50mm x 50mm (2" x 2")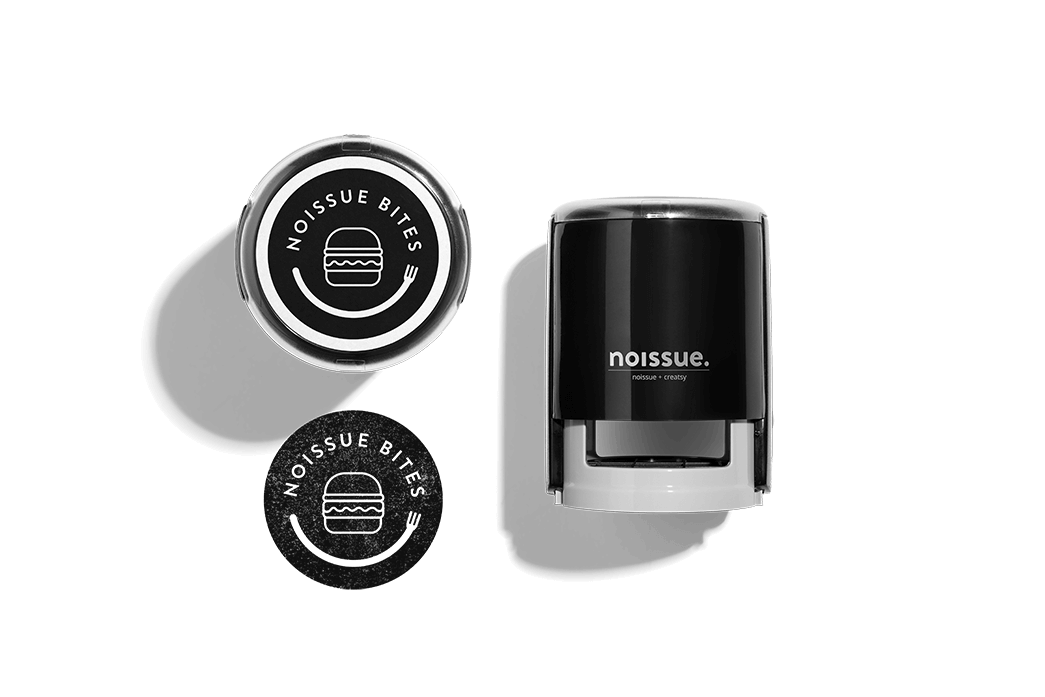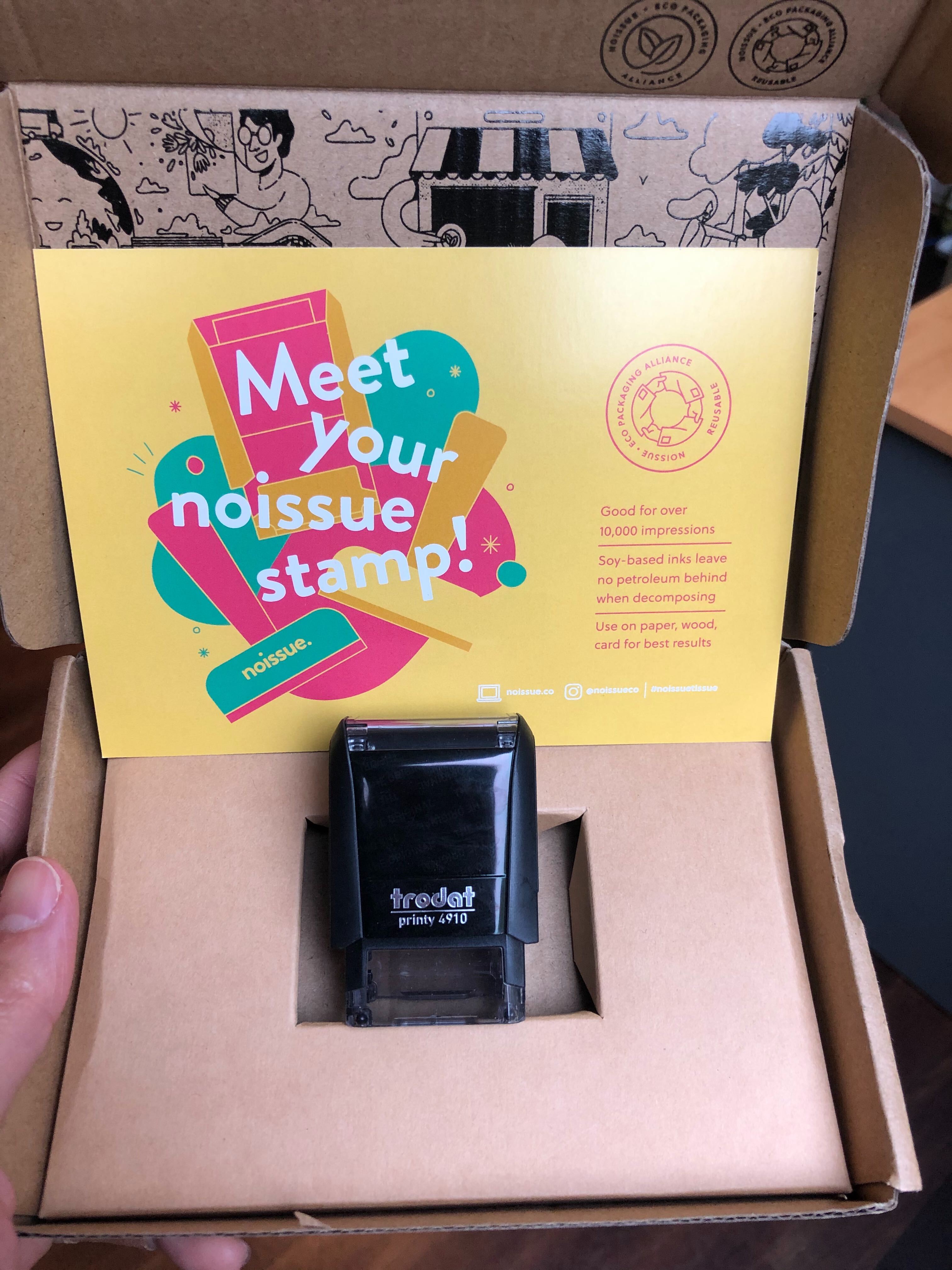 What ink colors are available for the noissue Stamp?
For your noissue Stamp, you can choose between 4 classic ink colors:
- Black
- Blue (closest to PMS 300 C)
- Red (closest to PMS 032 C)
- Green (closest to PMS 354 C)
Can you help with my noissue Stamp design?
We're always here to lend a hand in making your perfect noissue Stamp. Here are some design tips to get the best printing results:
- Text height should be at least 1.5mm.
- Line thickness should be at least 0.2mm.
- Keep the design 1.5mm away from the cut line edges.
- Avoid very intricate details, as simpler design stamp cleaner and clearer!
- Don't want to design your stamp from scratch? No worries - you can choose from our wide range of design templates, thoughtfully crafted by the noissue Creative Community.
Don't forget that our incredible Pre-Press Team is always here to help you out, too, and we'll ensure you're happy with your final design before we get printing.
What materials can I use the noissue Stamp on?
We've seen the noissue Stamp make beautiful imprints on cards, boxes, paper bags, hang tags, wood pieces, coffee cups, and more (of course, we recommend pairing them with your favorite noissue products)!
Have a look at some examples here, gather some inspiration, and show us how you personally use your noissue Stamp by using the hashtag #noissuestamps.
How should I care for my noissue Stamp?
The noissue Stamp doesn't require much maintenance, but here are a few handy tips to keep yours in optimum condition:
- Store your stamp in a cool, dry, and dark place. Avoiding heat and light prevents the rubber on your stamp from melting, distorting, or cracking.
- Don't use "bad" inks (AKA alcohol and solvent inks). Using soy-based or water-based inks better preserves the rubber on your stamp. Our Water Based Ink Refills are a great option!
- Give it a gentle clean every now and again using a damp cloth or non-chemical based wipe.
What is the shelf life of the noissue Stamp?
The manual version of your noissue Stamp will last you for well over 10,000 impressions with proper care, while the self-inking version can last 10 times longer that!
The ink pad should last you at least 6 months - just make sure to keep the lid completely closed when not in use to avoid drying out the ink. For the self-inking stamp, each separate ink cartridge will last for well over 500 impressions before you need to reload.
Be sure to stock up on our Water Based Ink Refills so you're ready to refresh your stamp when the time comes!
How do I refill the ink for my noissue Stamp?
If it's time to juice up your noissue Stamp again, replenishing your ink is super easy! First, make sure you have an ink refill on hand - we recommend our Water Based Ink Refills.
The refill process is different depending on what type of stamp you have: for the manual version, you can add your ink directly to the ink pad that came with your noissue Stamp; for the self-inking version, you'll just need to push out the ink pad first, and then add your ink! Make sure to give the fresh ink some time to soak in for the best results.
Be sure to watch this helpful video from @hopelesscindy on TikTok for a how-to on refilling both versions of our noissue Stamp with our Water Based Ink Refills!
Check out our YouTube channel to watch the noissue Stamp in action, along with other informative and fun videos. If you have any other questions, just reach out to us here, and we'll be happy to help!