Let us make your packaging life easier with the Curby Mini-Taper!
This water-activated tape dispenser (AKA paper or gummed/gum tape dispenser) is so easy to use, you can and will want to use it over and over again. Use the Curby Mini-Taper for any water-activated tape that is between 1-3 inches wide (we, of course, recommend noissue Tape), and your packages will be sustainably sealed and ready to go in no time!
Just click here to order yours!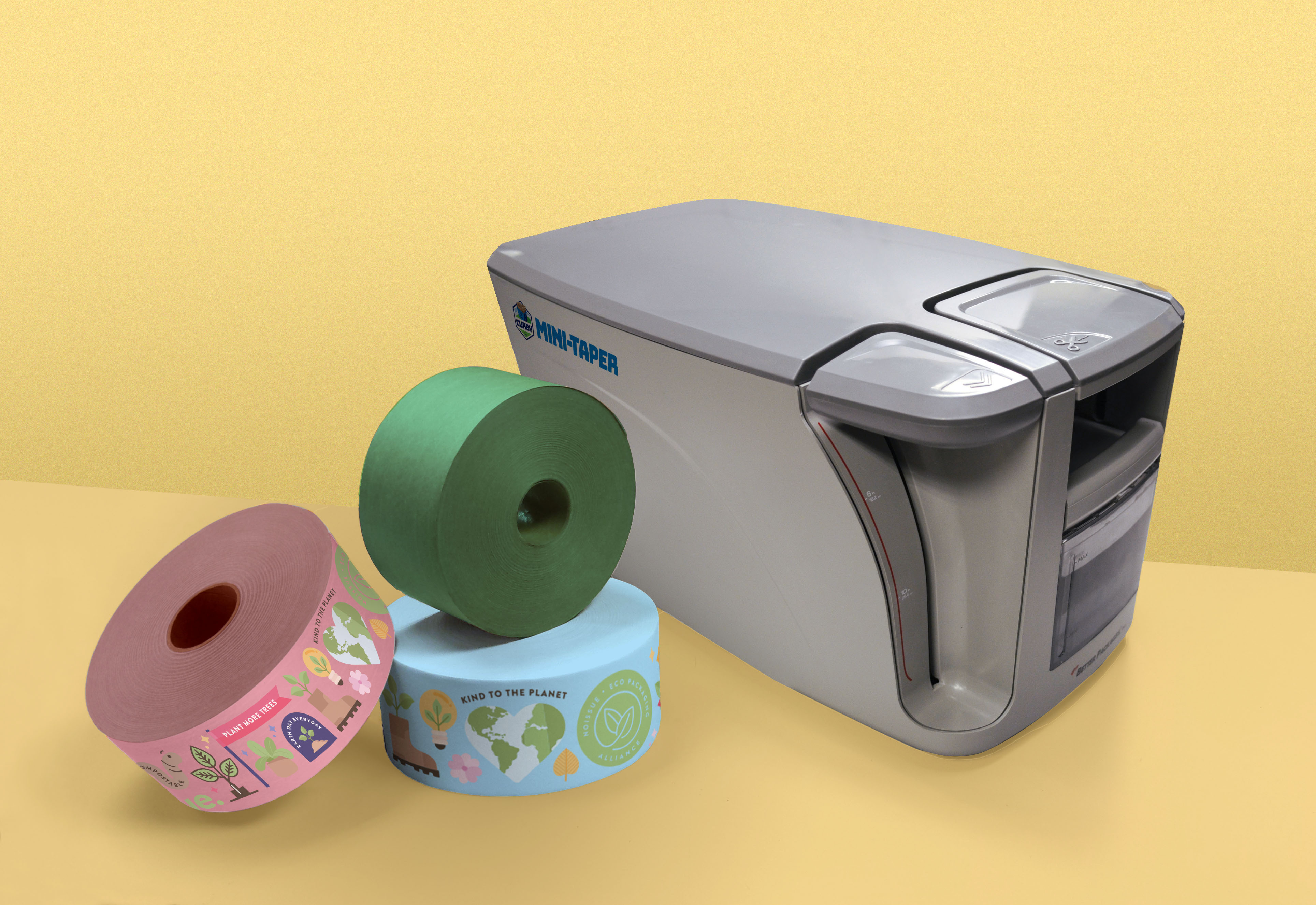 What makes the Curby Mini-Taper eco-friendly?
No need to kick this dispenser to the curb - the Curby Mini-Taper is made to stay in your taping routine until you can't tape anymore. Its easy reusability keeps it out of the trash, and it also eliminates the need for a separate (and potentially smelly) sponge!
Pick up some noissue Tape for a sustainable tape match made in heaven.
How do I use the Curby Mini-Taper?
Setting up your Curby Mini-Taper is a breeze! All you have to do is:
1. Remove the lower tank, fill it with water (regular tap water will do!), and insert it back into the dispenser.
2. Open the dispenser lid and place your tape into the basket. Make sure your tape design is facing up when pulling it towards the front of the dispenser!
3. Feed the tape (1) up and over the back roller, (2) over the first roller, and then (3) down into the dispenser tray.
4. Press down on the dispensing lever until you reach your desired length.
5. Press down on the cutting lever to slice your wetted tape strip that's ready to use!
If you'd rather see it in action, check out this mini-tutorial video made by the brilliant Hive Five Studios to see just how user-friendly the Curby Mini-Taper is!
What types and sizes of tape can I use with the Curby Mini-Taper?
The Curby Mini-Taper can be used with water-activated tapes that are between 1-3 inches in width. It's compatible with both reinforced and non-reinforced water-activated tape, but we don't recommend using it with tapes that have an exposed adhesive back, since they'll just stick to the dispenser instead of rolling out nicely!
Our noissue Tape Dispenser is also a great option. Check it out and choose your favorite dispenser! The choice is yours.
If you're looking for a dispenser to use with your Self-Adhesive Kraft Tape or any other pressure sensitive tape instead, check out the Pressure Sensitive Tape Dispenser!
Check out this article for a complete guide to the Curby Mini-Taper. If you have any other questions about it, just reach out to us here, and we'll be happy to help!