It's time to boss up with the oh-so-stylish noissue Embosser!
These easy to use custom embossers will help you make a great impression on paper and people alike. Plus, they're made from sturdy metal, which means you can add that signature flair and texture to your packaging over and over (and over!) again.
Get the full details on pricing, lead times, and quantities, and start customizing your embossers here!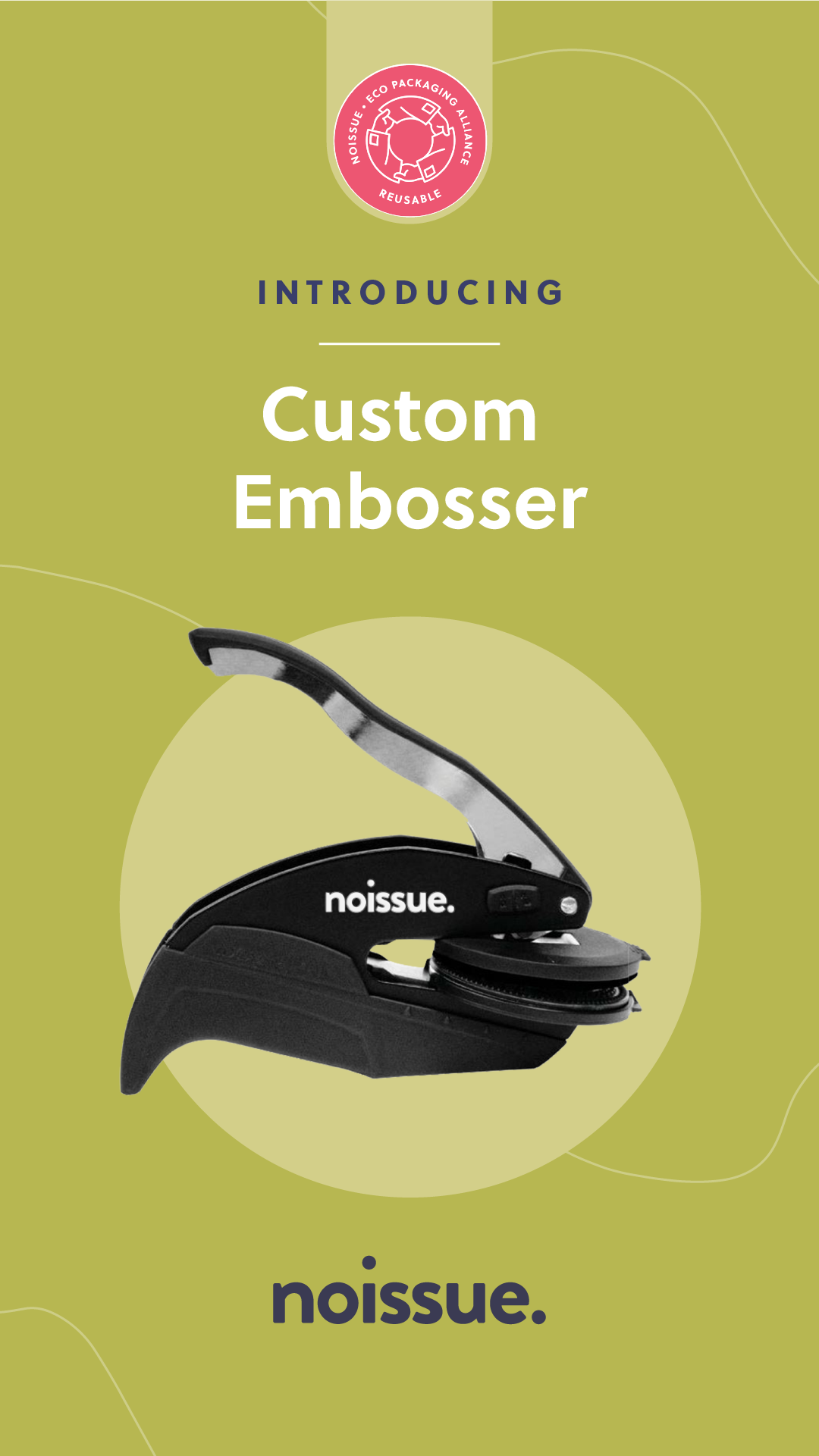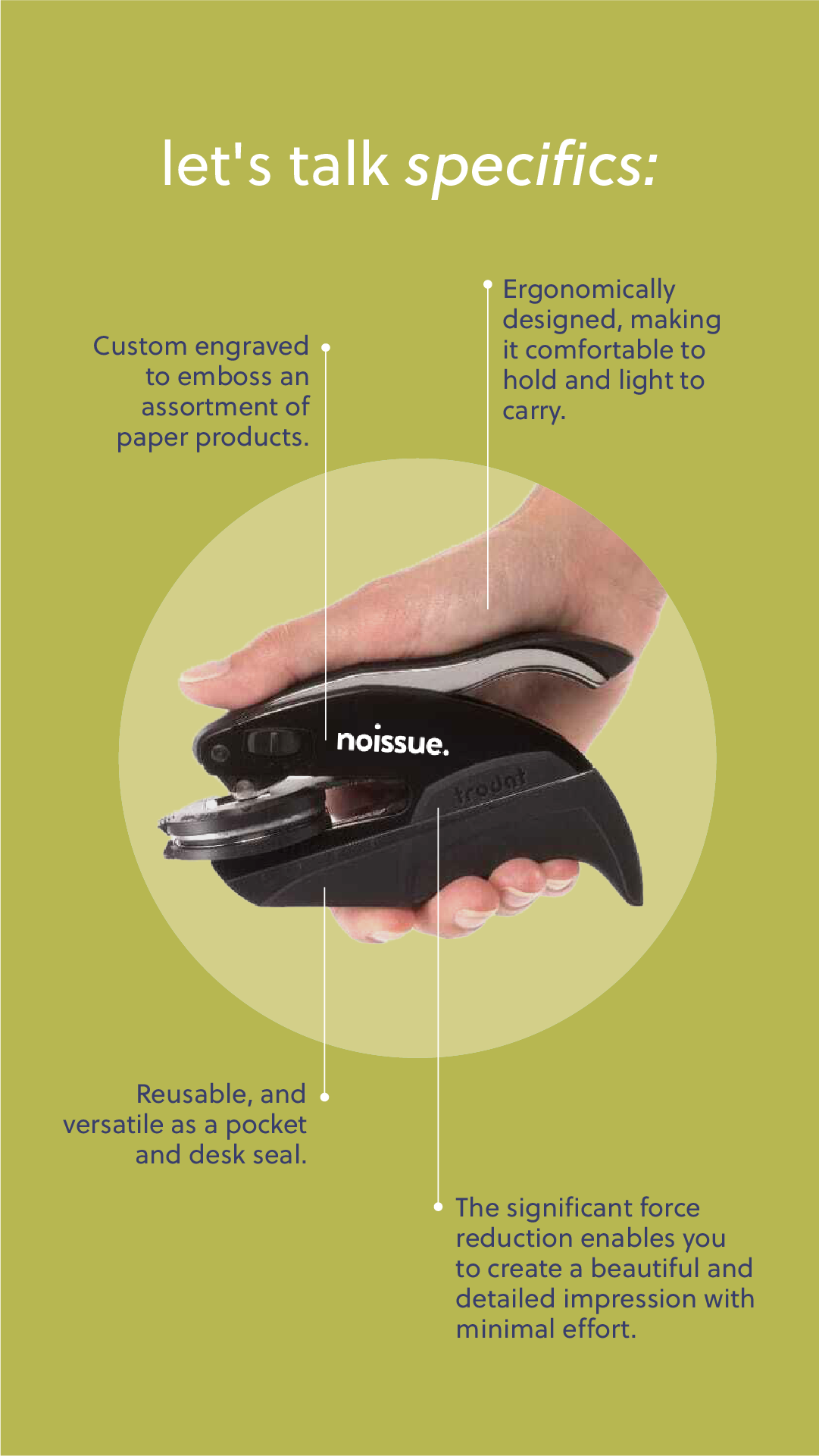 What makes the noissue Embosser eco-friendly?
noissue Embossers are made from metal to ensure durability and reusability - they're designed to last, and a longer lifespan means less waste. Long live the noissue Embosser!
What model, size, and orientation is the noissue Embosser?
We always want to give you the best of the best, which is why we use the famously ergonomic and effortless Trodat Ideal Seal Press model for noissue Embossers.
With compact body dimensions of 118mm x 71mm x 25mm (4.6" x 2.8" x 1") and an impression size of 41mm x 41mm (1.6" x 1.6"), our embossers pack a punch without cramping your workspace.
Embossing is effortless and easy with a bottom insert orientation and 67mm mouth length, as shown here: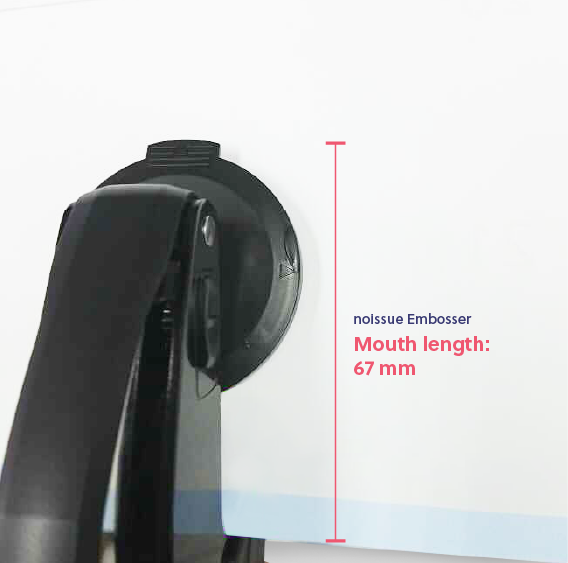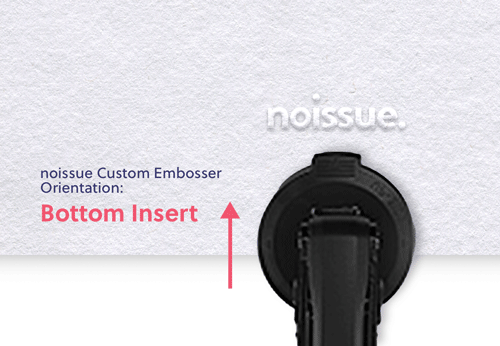 Can I use my noissue Stamp design for my noissue Embosser?
noissue Stamps and noissue Embossers are definitely in the same family of packaging embellishment, but they aren't twins, and both have their own requirements and restrictions when it comes to design. For example, noissue Embosser designs can't be inverted like stamp designs can, so be sure to cater your design to each product accordingly. Don't worry, our Pre-Press Team will also help you make sure everything's perfect before your embosser goes into production!
Can you help with my noissue Embosser design?
We're always here to lend a hand in making your perfect noissue Embosser - be sure to check out the Print Perfect Checklist for our print requirements and dielines! Here are some starting design tips to get the best printing results:
- Text height should be at least 1mm (6pt).
- Solid lines should be at least 0.8mm thick, and hollowed lines should be at least 2mm thick.
- Spaces between each design element (i.e. letters) should be at least 0.6mm wide.
- Text or lines after embossing will appear thicker than the original design, so keep your design simple for a cleaner impression.
Don't forget that our incredible Pre-Press Team is always here to help you out, too, and we'll ensure you're happy with your final design before we seal the deal.
What order quantities are available for the noissue Embosser?
The maximum order quantity for noissue Embossers is 5, but if you want more, just add another set to your cart! Same thing goes for embossers with different designs - just add in a separate order of embossers for each design until you're all stocked up and ready to checkout.
What materials can I use the noissue Embosser on?
For the best results, use your noissue Embossers to spruce up your paper packaging with a recommended thickness/paper weight of at least 80gsm. Try giving it a whirl on your noissue Cards, Kraft Mailers, Hang Tags, or any other paper-based material of your dreams.
You can definitely use it on thinner or thicker material, but just keep in mind that the impression may tear the material or be very subtle if the material is too thin or too thick, respectively. 80gsm thickness is the sweet spot!
How do I use the noissue Embosser?
Setting up and using your noissue Embosser is a breeze! All you have to do is:
1. Lift up the embosser lever and take out your custom designed embosser plates.
2. Insert your embosser plates into the mouth of the embosser.
3. Place your material between the plates, and press down on the embosser lever. Make sure to apply enough pressure on both sides for the best results (you may hear a small click sound to let you know it's imprinted) - handle your embosser similar to how you would handle a stapler!
If you'd rather see it in action, check out this mini-tutorial video made by Empyrean The Collective to see just how user-friendly the noissue Embosser is!

Check out this article for a complete guide to our noissue Embossers. If you have any other questions about them, just reach out to us here, and we'll be happy to help!