What's better than beautiful wrapping? Beautiful wrapping that you can reuse! That's right - noissue Drawstring Bags are here for your perfect pouch.
Show off your brand to the fullest with double-sided water-based ink printing on 100% GOTS certified organic cotton fabric. Available in 4 different sizes, these drawstring bags are ready to give your items a warm, snug, reusable hug.
Get the full details on pricing, lead times, and quantities, and start customizing your drawstring bags here!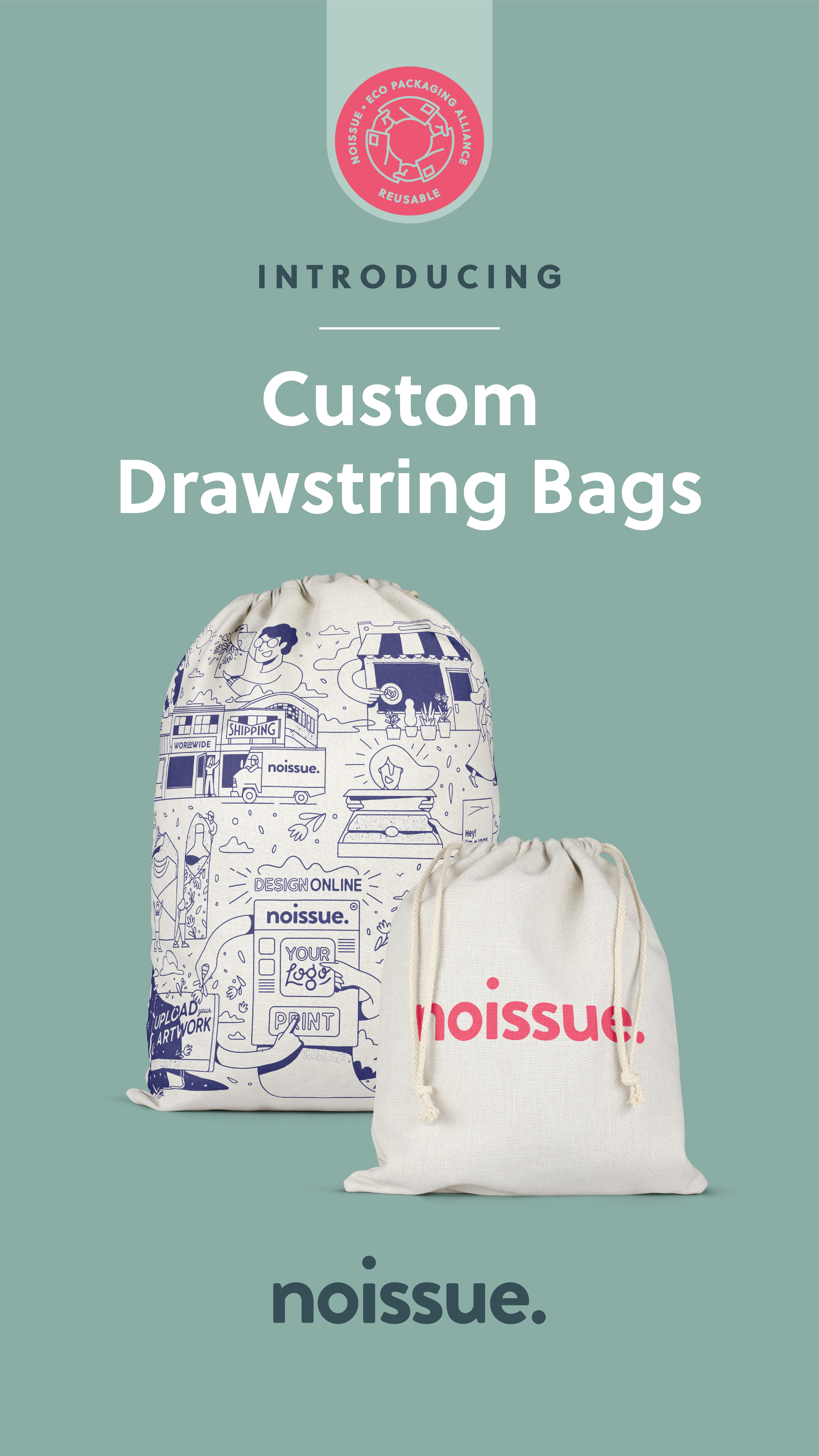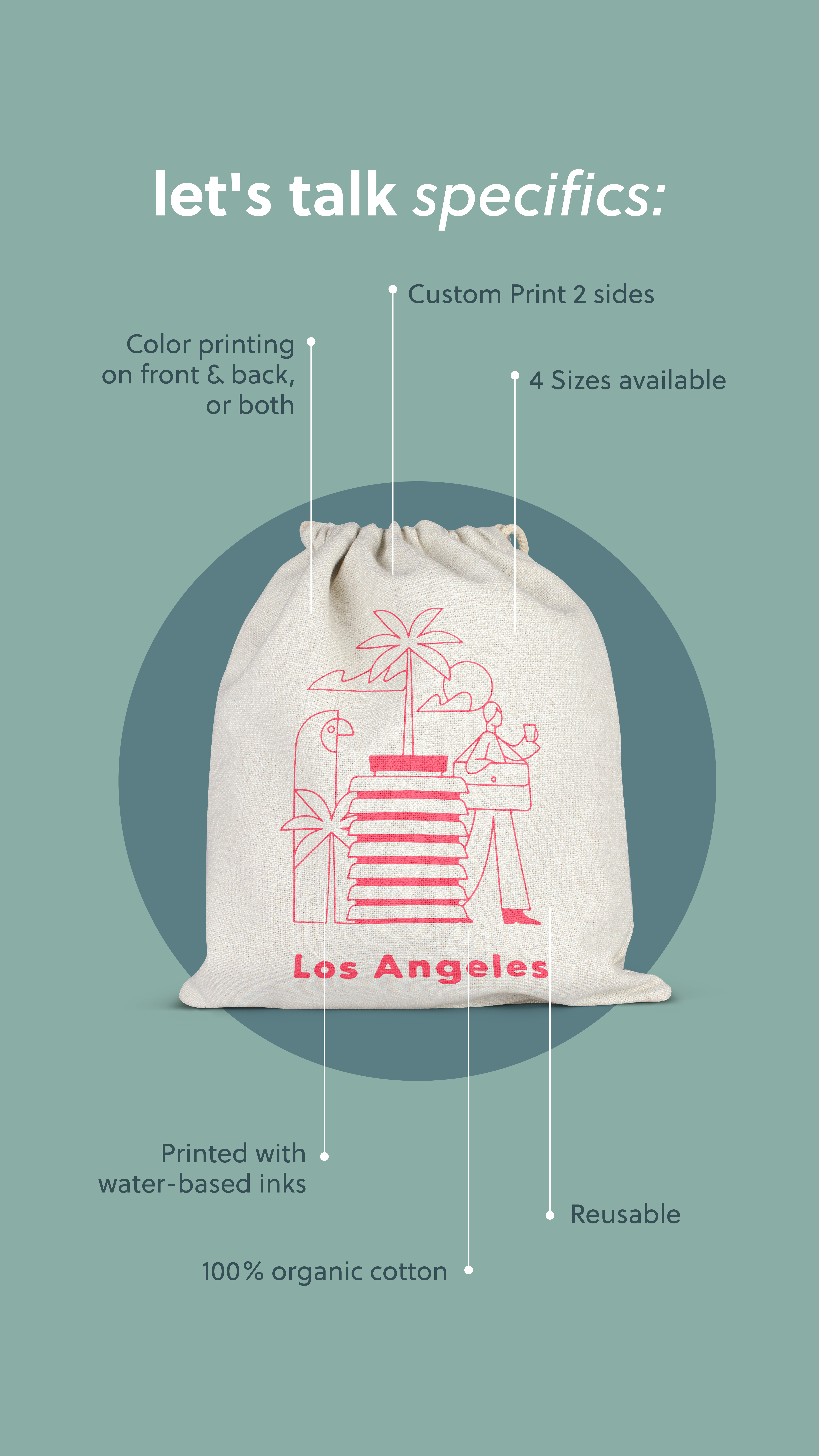 What makes noissue Drawstring Bags eco-friendly?
Made from 100% Global Organic Textile Standard (GOTS) certified organic cotton fabric and printed with water-based inks, noissue Drawstring Bags are biodegradable and also meant to be used again and again, making them thoughtful and sustainable from beginning to end.
Same goes for our noissue Tote Bags and noissue Canvas Tote Bags, so you don't have to feel guilty about double-bagging.
What is organic cotton?
Organic cotton is grown and made with methods and materials that have low impact on the environment, and the production of organic cotton prohibits the use of toxic, synthetic materials. There are so many other benefits to using organic cotton, which we encourage you to read up on here!
Like any authentic and raw organic cotton material, noissue Drawstring Bags are a natural cream/beige color with brown flecks indicating that the material is not bleached, processed, nor filled with toxins. Think of the flecks as confetti to celebrate your good choices.
What are the thickness, size, and weight measurements for noissue Drawstring Bags?
With a thickness of 5oz/yd, noissue Drawstring Bags are available in 4 versatile sizes (with corresponding unit weights):
- 83mm x 127mm (3.25" x 5") - 10g
- 127mm x 178mm (5" x 7") - 17g
- 203mm x 254mm (8" x 10") - 37g
- 330mm x 406mm (13" x 16") - 94g
How are noissue Drawstring Bags printed?
noissue Drawstring Bags are customized via offset printing with water-based inks. Double-sided printing is an option, so you can choose to have the same or different designs on each side. Just a heads up, only 1 Pantone color can be used for the entire bag, which we'll match using Pantone TPG.
Can you help with my noissue Drawstring Bag design?
We're always here to lend a hand in making your perfect noissue Drawstring Bags - be sure to check out the Print Perfect Checklist for our print requirements and dielines! Here are some starting design tips to get the best printing results:
- Text height should be at least 1cm.
- Line thickness should be at least 1mm.
- Gaps between lines/dots should be at least 5mm.
Don't forget that our incredible Pre-Press Team is always here to help you out, too, and we'll ensure you're happy with your final design before we tie things up.

Check out this article for a complete guide to our noissue Drawstring Bags. If you have any other questions about them, just reach out to us here, and we'll be happy to help!