Looking for the perfect match for your noissue Tape? Cue the dazzling noissue Tape Dispenser!
This "pull-and-tear" water-activated tape dispenser (AKA paper or gummed/gum tape dispenser) is lightweight so you can take it with you on your scenic taping adventures, and it's also super easy to use over and over again. Efficient and eco-friendly? Sign us up!
The noissue Tape Dispenser comes in 2 colors (blue and pink), and it's compatible with both reinforced and non-reinforced water-activated tape that is 50mm to 72mm wide, so you can roll out your water-activated tape (we, of course, recommend noissue Tape) like a pro.
Just click here to order yours!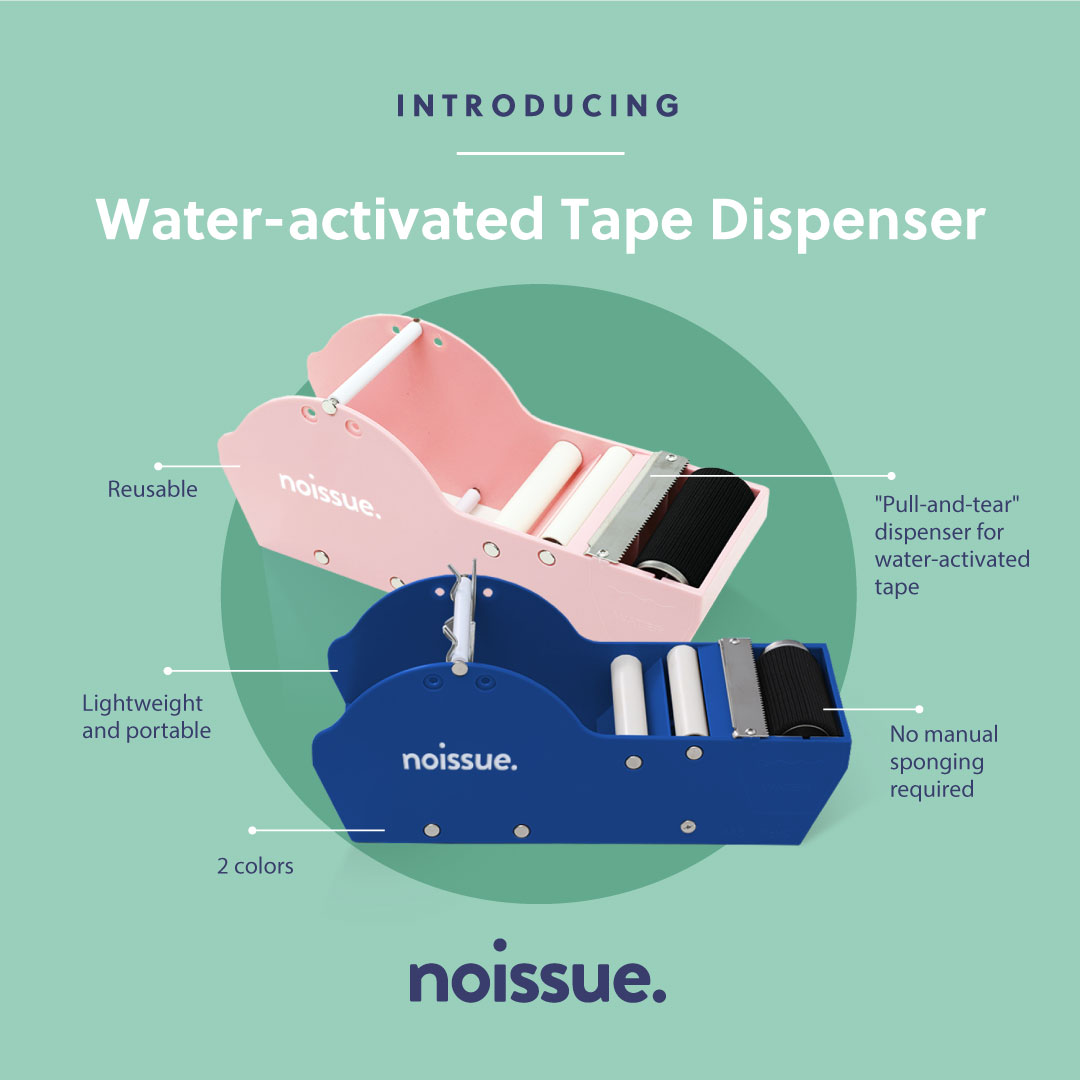 What makes the noissue Tape Dispenser eco-friendly?
Like all sustainable friendships, the noissue Tape Dispenser is reliable and built to last. It's there to help you reach your water-activated tape dreams with as little stress as possible, and it's in it for the long haul. Reusability is in its design, and that means it's staying on your desk, in your workflow and out of the trash! It also eliminates the need for a separate sponge, so no waste there either.
Couple it with some noissue Tape to really take your eco-packaging relationship to the next level.
How do I use the noissue Tape Dispenser?
Setting up your noissue Tape Dispenser is a breeze! All you have to do is:
1. Remove the sponge, fill the reservoir with water (regular tap water will do!), and place the sponge back into the dispenser. Give it a quick spin to dampen!
2. Remove the back roller, insert it through the core of your tape roll, and place the roller and tape roll back into the dispenser. Make sure your tape is facing up (adhesive side down) when pulling it towards the front of the dispenser!
3. Feed the tape (1) under the middle roller, and then (2) up and over the front roller.
3. Slide the end of your tape under the metal tear bar and pull it through to the other side.
4. Pull your tape to the desired length (the bottom of it should be gliding across the damp sponge roller), and then tear it across the metal teeth to cut!
Check out the video below (1:58) for a visual on using a manual water-activated tape dispenser similar to ours:
What types & sizes of tape can I use with the noissue Tape Dispenser?
The noissue Tape Dispenser can be used with water-activated tapes that are 1 to 3 inches in width. It's compatible with both reinforced and non-reinforced water-activated tape, but we don't recommend using it with tapes that have an exposed adhesive back, since they'll just stick to the dispenser instead of rolling out nicely.
Our Curby Water-Activated Tape Dispenser is also a great option. Check it out and choose your favorite dispenser! The choice is yours.
If you're looking for a dispenser to use with your Self-Adhesive Kraft Tape or any other pressure sensitive tape instead, check out the Pressure Sensitive Tape Dispenser!
If you have any other questions about the noissue Tape Dispenser, just reach out to us here, and we'll be happy to help!