Say goodbye to rings and stains - with noissue Coasters, the only thing on your surfaces will be cool, custom, conscious branding! These paper-based buddies are reusable, recyclable, and - for our friends outside of AU/NZ - compostable. Print your personalized design with eco-friendly inks on 2 different shapes, and yes, double-sided printing is definitely an option.
Click here for the full scoop including pricing, lead times and order quantities!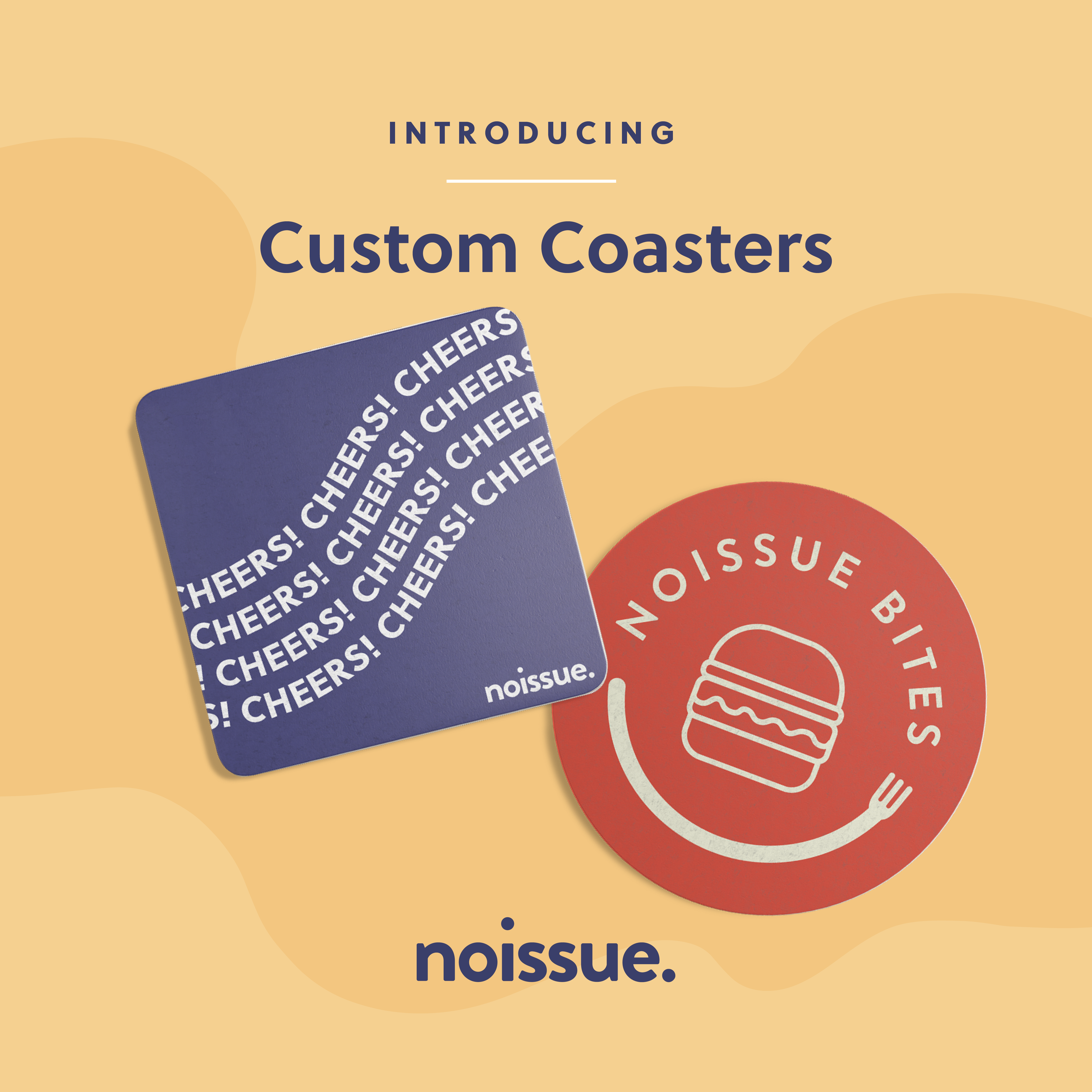 What makes noissue Coasters eco-friendly?
Let us boast about our noissue Coasters - they're made from paper certified by the Forest Stewardship Council™ (FSC) (our coasters outside of the UK are also 30% recycled!) and printed with beautiful water-based or vegetable-based inks. Did we mention that they're reusable and recyclable? Oh, and if you're shopping outside of AU/NZ, your coasters are also compostable! Good decisions all around.
What shapes, sizes, and thicknesses are available for noissue Coasters?
You can order your noissue Coasters in 2 different shapes: circle or square (rounded corners). The size and thickness of your coasters depends on where you're located:
- UK: 94mm x 94mm (3.7" x 3.7") / 500gsm
- AU/NZ: 95mm x 95mm (3.7" x 3.7") / 390gsm
- Outside of the UK, AU/NZ: 102mm x 102mm (4" x 4") / 560gsm
For more info on paper weight/thickness and GSM, check out this article!
How are noissue Coasters printed?
noissue Coasters are customized via offset printing with water-based and vegetable-based inks in CMYK, which means your design can have as many colors as you'd like without using harmful inks. Double-sided printing is also available, so your coaster is completely custom, front and back.
Can you help with my noissue Coasters design?
We're always here to lend a hand in making your perfect noissue Coasters - be sure to check out the Print Perfect Checklist for our print requirements and dielines! Here are some starting design tips to get the best printing results:
- Text height should be at least 7pt, or 9pt for white text
- Line thickness should be at least 0.5mm.
- Keep important elements at least 3-5mm away from the sides to avoid being cut off.
- Don't want to design your coasters from scratch? No worries - you can choose from our wide range of design templates, thoughtfully crafted by the noissue Creative Community!
Don't forget that our incredible Pre-Press Team is always here to help you out, too, and we'll ensure you're happy with your final design before we get printing.
Check out this article for a complete guide to our noissue Coasters. If you have any other questions about them, just reach out to us here, and we'll be happy to help!