Sustainability never goes out of style - pair your apparel with our Compostable Garment Bags for an eco-friendly ensemble, and while you're at it, check out this guide on how to ship clothes!
Not only are these bags kind to the environment (they break down in 180 days!), they're also translucent and minimally branded to let what's inside truly shine! Talk about fashion-forward. Choose between 3 handy sizes for your perfect fit, or stock up on each for a complete collection and a clear conscious.
Get the full details on pricing, lead times, and quantities here!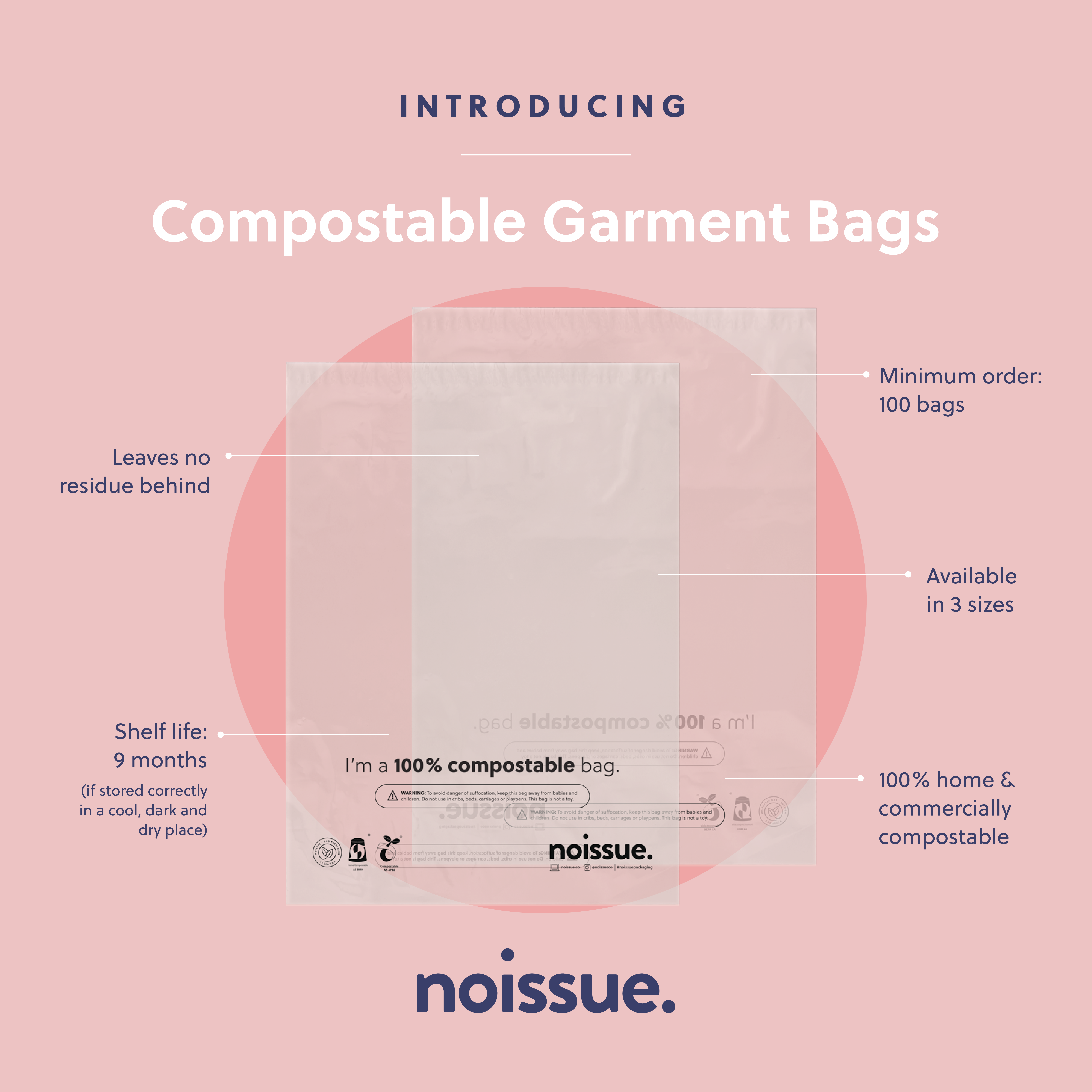 What makes the Compostable Garment Bags eco-friendly?
Our Compostable Garment Bags are 100% compostable. Take a closer look:
- 20% PLA (polylactide, made from plant waste - read more about it here)
- 80% PBAT (biodegradable, leaves no toxic residue)
This all means that your Compostable Garment Bags don't have to end up as trash (like traditional plastic ones). In fact, these garment bags can break down in 180 days, and are home-compost friendly - check out our tips on composting at home here!
What do the Compostable Garment Bags look like?
Subtle, sleek, and satisfyingly eco-friendly, our Compostable Garment Bags read "I'm a 100% compostable bag." in black text on a translucent background. A simple adhesive strip at the top keeps your contents all tucked in until showtime, and two air vent holes at the bottom let them breathe.
You can check out some images of the Compostable Garment Bags here!
What size and thickness are the Compostable Garment Bags?
Our Compostable Garment Bags have a thickness measurement of 30um ("um," or micrometer, is used for super small, precise measurements), and come in 3 versatile sizes to fit your needs, while also adding as little weight to your package as possible :
- 250mm x 350mm (9.8" x 13.8")
- 350mm x 400mm (13.8" x 15.7")
- 400mm x 450mm (15.7" x 17.7")
Are the Compostable Garment Bags waterproof?
Due to the 2 air vent holes located on the bottom of our Compostable Garment Bags, they are not completely waterproof, but they will still shield whatever's inside from most dust, dirt, and moisture!
If you're looking for something similar that is waterproof, check out our noissue Compostable Mailers.
What is the shelf life of the Compostable Garment Bags?
We recommend storing your Compostable Garment Bags in a cool, dry, and dark room to get the maximum shelf life and durability from them. When stored correctly, these garment bags stay ready to go for at least 9 months.
If you have any other questions about our Compostable Garment Bags, just reach out to us here, and we'll be happy to help!