Keep calm and carry on - Custom Wine Carriers are here for our US community!
Take the fear and fumbling out of transporting your fragile bottles. Our Custom Wine Carriers are made out of 32 ECT E-flute FSC certified materials, which means they're reliable and responsibly made. Choose between 2 sizes (2 bottle or 3 bottle), 3 materials, and water-based ink printing to get the outside looking just right. Side window cut-outs give a peak at what's inside, while interior partitions keep everything in place.
Get the lowdown on pricing, lead times, quantities, etc., and start designing your carriers here!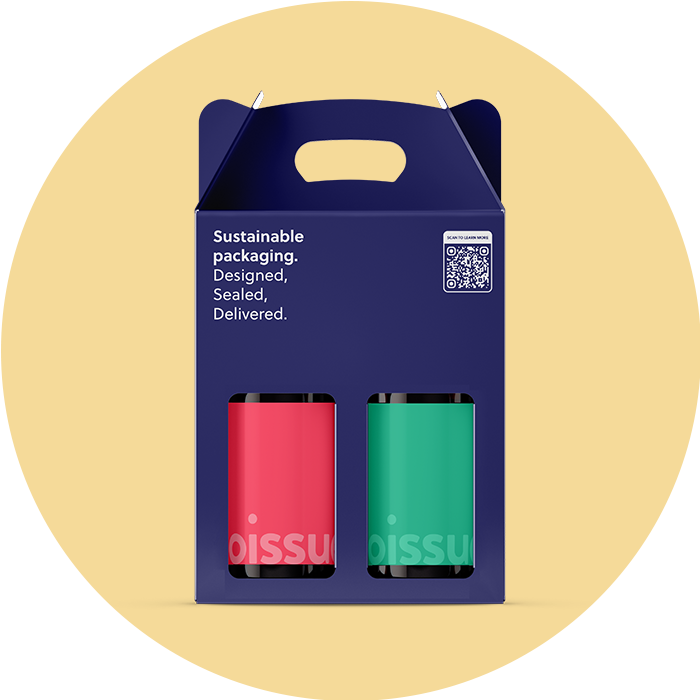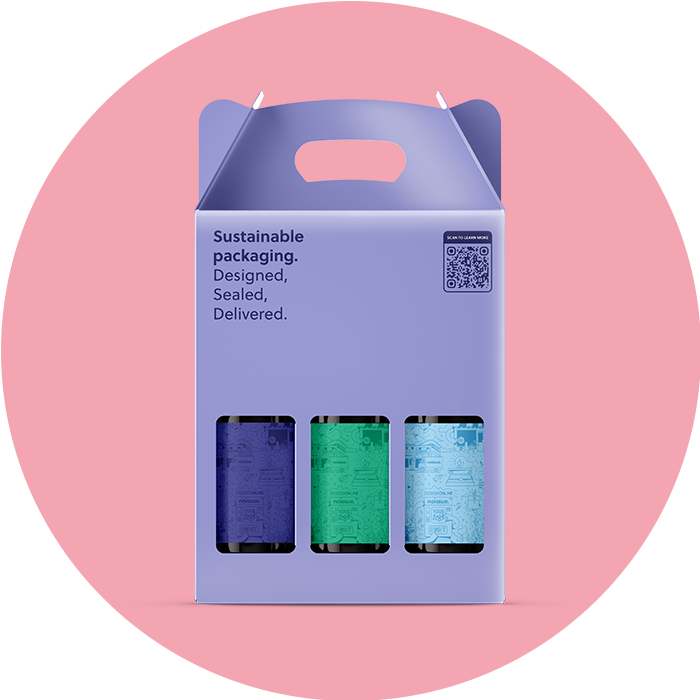 What makes the Custom Wine Carrier eco-friendly?
Our Custom Wine Carriers are made from recycled materials certified by the Forest Stewardship Council™ - choose between 30% (coated Premium White carriers) and 60% recycled fibers (Kraft and uncoated White carriers). The printing and coating is done with water-based inks, which means they can be completely recycled again!
This makes the Custom Wine Carrier a circular economy product, which is a term used to describe products that are designed to be repurposed or alternatively disposed of in an effort to reduce waste. You can read more on that here, and you can watch this video on it as well:
What is E-flute?
E-flute refers to the density of the corrugated material - just about 1/16-inch in thickness. Protective? Check. Lightweight? Check. The best of both worlds? Absolutely.
How much weight can the Custom Wine Carrier hold?
Don't let the sleekness fool you - our Custom Wine Carriers are rated 32 ECT (Edge Crush Test) which sets maximum weight capacity at 65lbs per industry standards, but we'd say they're best suited for light to medium weight products (like wine bottles).
What sizes are available for the Custom Wine Carriers?
Our Custom Wine Carriers come in 2 different sizes, 1 for each bottle capacity option (length x width x depth):
- 2 Bottle Carrier: 184mm x 94mm x 356mm (7.25" x 3.69" x 14")
- 3 Bottle Carrier: 279mm x 89mm x 356mm (11" x 3.5" x 14")
What are the finishes on the Custom Wine Carriers?
The Kraft and uncoated White carriers come in a natural matte finish, but if you're looking for something a bit more bubbly for your bubbly, the Premium White carriers are finished with a light water-based coating to give it that glossy look. The choice is yours!
What color/printing options are available for the Custom Wine Carrier?
Our Custom Wine Carriers are customized via digital printing in CMYK colors, which means you can really get creative with color, and without the use of harmful inks. Designs can be printed on the outside only - let's let the inside be all about what you put in. Choose between 3 bases to print your designs on:
- Kraft
- White (Matte/Uncoated)
- Premium White (Glossy/Coated)
Just a heads up - white ink printing is currently unavailable for the Kraft base, but the same white-on-Kraft effect can easily be simulated by simply adding a Kraft texture/color background to your design, and then printing that image on the White or Premium White base instead.
If you still want to stick with the Kraft base anyway, please note that any white portions of your design cannot be printed in that color for now!
Can you help with my Custom Wine Carrier design?
We're always here to lend a hand in making your perfect Custom Wine Carrier - be sure to check out the Print Perfect Checklist for our print requirements and dielines! Here are some starting design tips to get the best printing results:
- Text height should be at least 10pt
- Line thickness should be at least 0.5pt (or 1pt for inverted lines).
- Keep important elements at least 3.2mm away from the sides to avoid being cut off.
Don't forget that our incredible Pre-Press Team is always here to help you out, too, and we'll ensure you're happy with your final design before we get printing.
If you have any other questions about the Custom Wine Carrier, just reach out to us here, and we'll be happy to help!