Eco-friendly branding is in the bag with our recycled Custom Paper Bags!
These classic bags have twisted paper handles for easy carrying, so you can stay on-brand on-the-go. Add your personal touch with 3 sizes and 1 side of multicolor printing with water-based ink on FSC certified material.
Get the full details on pricing, lead times, and quantities, and start customizing your paper bags here!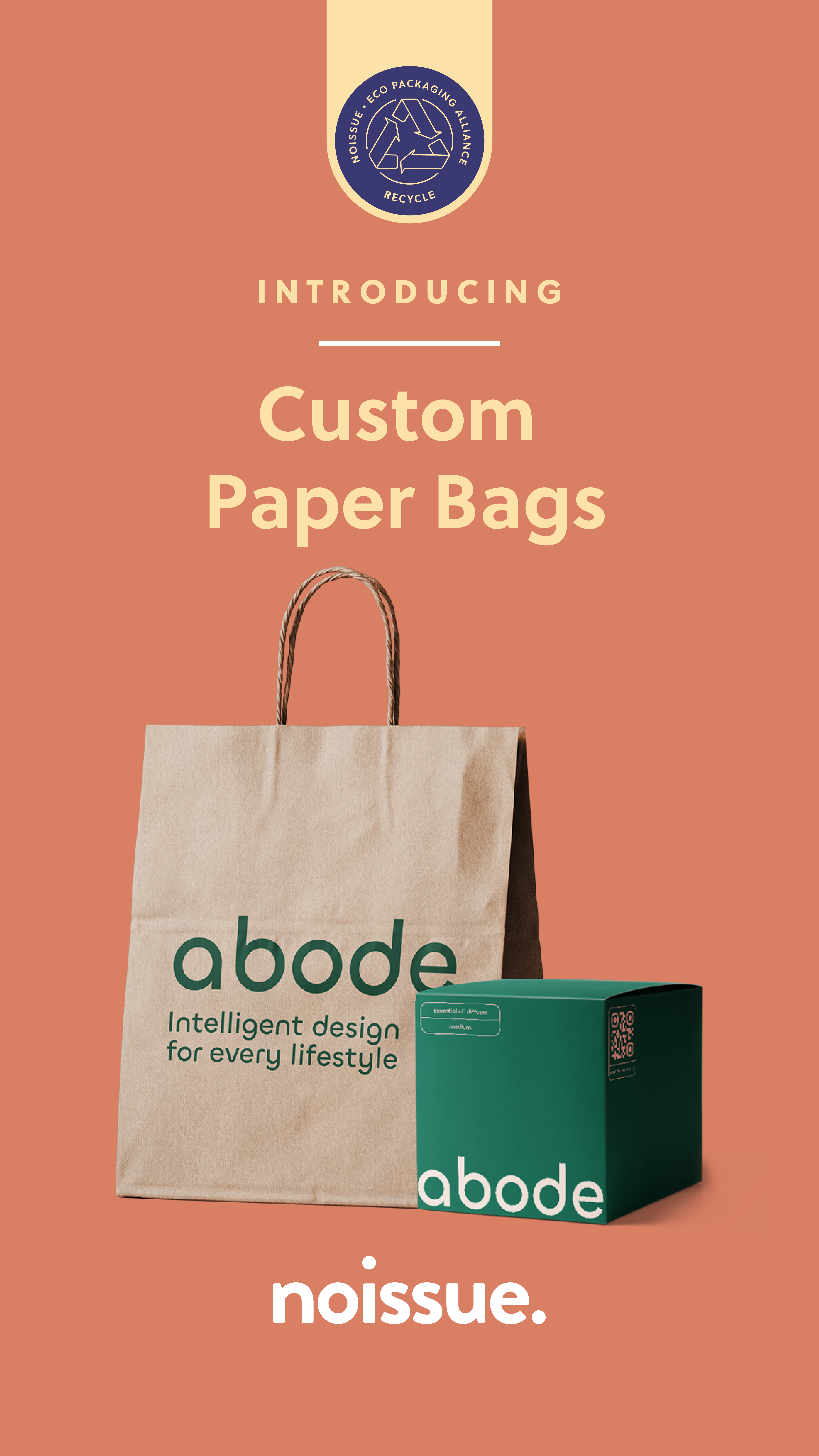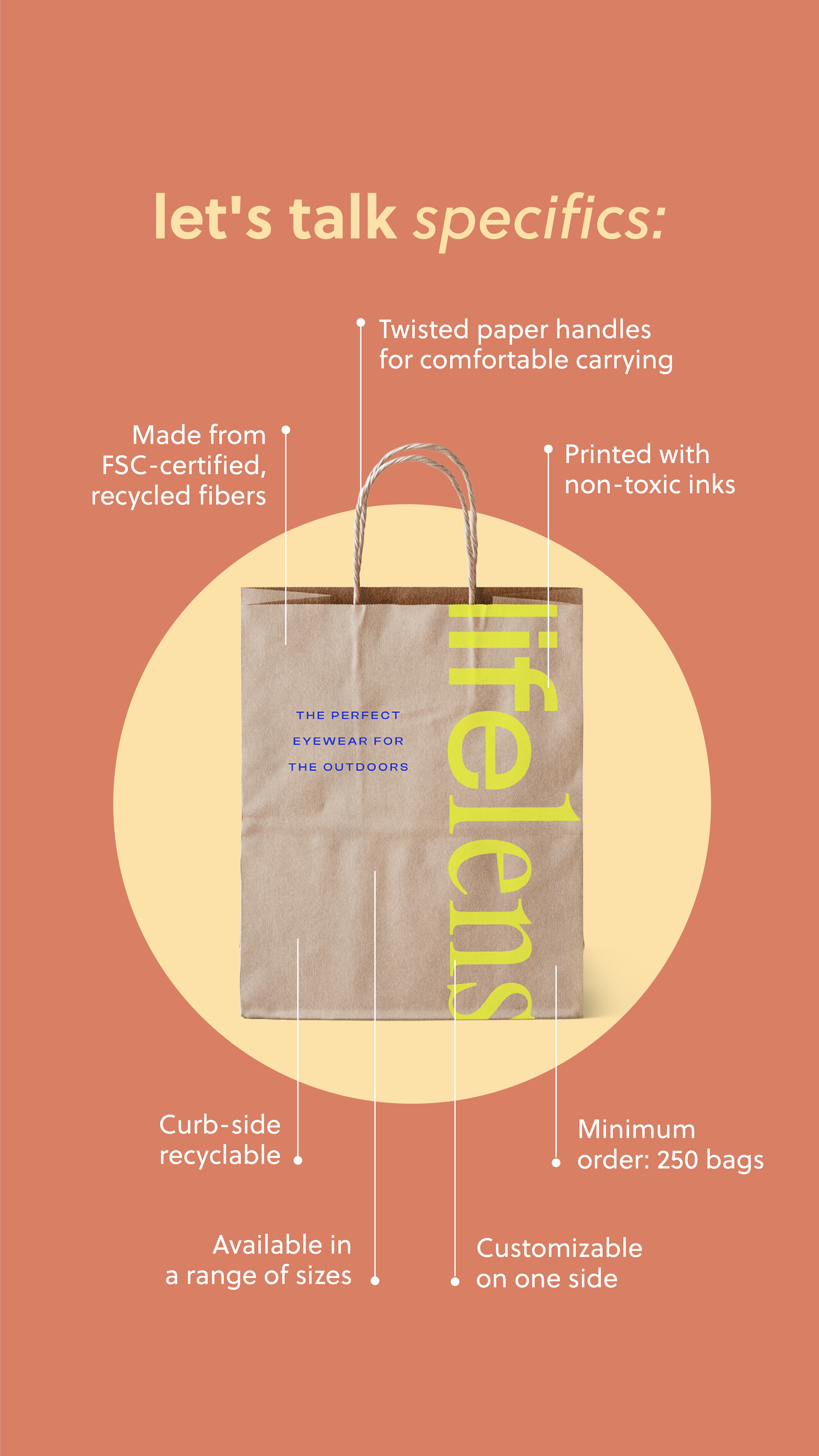 What makes the Custom Paper Bags eco-friendly?
We put the 'care' in 'carry' with our Custom Paper Bags - these bags are made from 100% recycled Kraft paper, certified by the Forest Stewardship Council™, and printed with water-based ink. They're ready to be recycled or reused, so they can keep carrying on with carrying!
Pair them with our compostable noissue Tissue for a classic yet custom gift bag look, or check out some fabric alternatives with our noissue Drawstring Bags and noissue Tote Bags.
How thick are the Custom Paper Bags?
With a paper weight/thickness of 63lbs., our Custom Paper Bags are both lightweight and durable!
What sizes are available for the Custom Paper Bags?
Our Custom Paper Bags are available in 3 accommodating sizes (Width x Height x Depth - body dimensions only, not including handles):
- 140mm x 213mm x 83mm (5.5" x 8.375" x 3.25")
- 203mm x 260mm x 127mm (8" x 10.25" x 5")
- 254mm x 330mm x 127mm (10" x 13" x 5")
What is the finish on the Custom Paper Bags?
Since we don't use any plastic coatings, the Custom Paper Bags come in a natural matte finish. Soft, subtle, and sleek - perfect for letting your design be the one to shine!
What color/printing options are available for the Custom Paper Bags?
Our Custom Paper Bags are customized via digital printing with water-based ink in CMYK colors, which means you can design them with as many colors as you'd like on 1 side. Double-sided printing is not an option for this product, but we'll make sure your 1 side looks just as good as 2!
Just a heads up - white ink printing is currently unavailable for the Kraft base, so please note that any white portions of your design cannot be printed in that color for now!
Can you help with my Custom Paper Bag design?
We're always here to lend a hand in making your perfect Custom Paper Bags - be sure to check out the Print Perfect Checklist for our print requirements and dielines! Here are some starting design tips to get the best printing results:
- Text height should be at least 6pt.
- Line thickness should be at least 0.3pt.
Don't forget that our incredible Pre-Press Team is always here to help you out, too, and we'll ensure you're happy with your final design before we tie things up.

Check out this article for a guide to our Custom Paper Bags! If you have any other questions about them, just reach out to us here, and we'll be happy to help!