Never forget the little guys - give some packaging love to even the smallest of items with our Custom Product Boxes!
Made out of FSC certified material, these recycled reverse tuck end (RTE) boxes are recyclable and compostable, so you can showcase your products sustainably. Stay on-brand on every scale with 4 different sizes and water-based ink printing.
Get the lowdown on pricing, lead times, quantities, etc., and start designing your boxes here!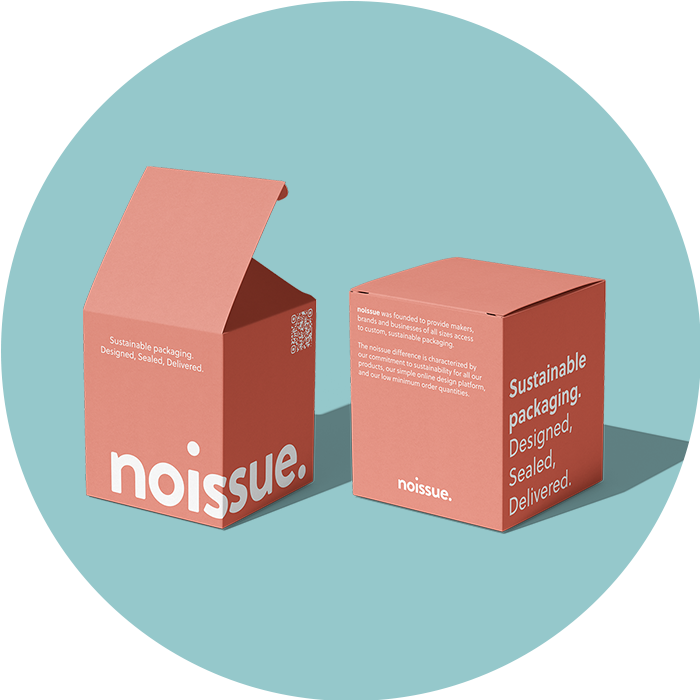 What makes the Custom Product Boxes eco-friendly?
Certified by the Forest Stewardship Council™, our Custom Product Boxes are made from 30% recycled White SBS paperboard. The printing and coating is done with water-based ink, which means they're completely curbside recyclable and compostable at the end of the day.
Check out our tips on composting at home here, and click here for a handy guide to recycled/recyclable materials!
How thick are the Custom Product Boxes?
Our Custom Product Boxes have a thickness of 16pt - light enough to minimize weight, but sturdy enough to protect what's inside.
What sizes are available for the Custom Product Boxes?
Choose between 4 different sizes for your Custom Product Boxes:
- 57mm x 57mm x 152mm (2.25" x 2.25" x 6")
- 102mm x 102mm x 102mm (4" x 4" x 4")
- 76mm x 76mm x 89mm (3" x 3" x 3.5")
- 89mm x 57mm x 140mm (3.5" x 2.25" x 5.5")
Need something bigger? Check out our Custom Reverse Tuck End Boxes for more sizes in the same RTE box form.

What are the finishes on the Custom Product Boxes?
To some added pizzazz, our Custom Product Boxes are finished with a water-based coating to give it a glossy look on the outside.
What color/printing options are available for the Custom Product Boxes?
Our Custom Product Boxes are customized via offset printing in CMYK colors, which means you can design them with as many colors as you'd like! Designs can be printed on the outside only - let's let the inside be all about what you put in.
Can you help with my Custom Product Box design?
We're always here to lend a hand in making your perfect Custom Product Box. Be sure to check out the Print Perfect Checklist for our print requirements and dielines! Here are some starting design tips to get the best printing results:
- Text height should be at least 8pt.
- Line thickness should be at least 0.5pt - 1pt.
- Don't want to design your boxes from scratch? No worries - you can choose from our wide range of design templates, thoughtfully crafted by the noissue Creative Community.
Our incredible Pre-Press Team is always here to help you out, too, and we'll ensure you're happy with your final design before we get printing.
Check out this article for a complete guide on our Custom Product Boxes. If you have any other questions about them, just reach out to us here, and we'll be happy to help!