When things are as good as our Recycled Stickers, there's no doubt they'll stick in your packaging routine!
Made with 100% recycled FSC certified paper and printed with water-based inks, these stickers will make you feel as good as they look. Customize them with your personal branding on a variety of shapes and sizes to get the perfect patch for your packaging, and then compost or recycle them again when the time comes.
Click here for the full scoop including pricing, lead times and order quantities!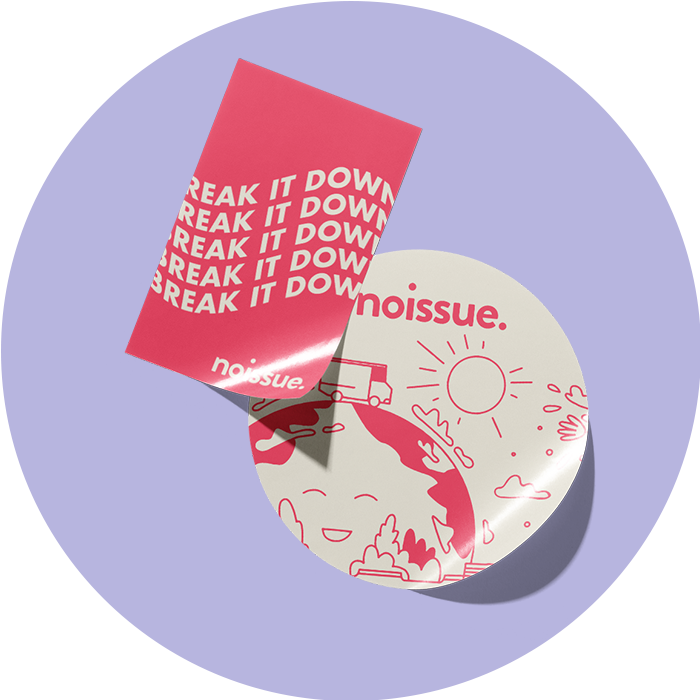 What makes the Recycled Stickers eco-friendly?
Our Recycled Stickers are made out of 100% recycled uncoated paper that's certified by the Forest Stewardship Council™ (FSC). That means no plastic coating, no virgin material, and no bad vibes! They're also printed with water-based ink, which means your design won't interfere with the compostability or continued recyclability of your stickers.
This makes our Recycled Stickers a circular economy product, which is a term used to describe the continuous use of resources in an effort to reduce waste. You can read more on that here, and you can watch this video on it as well:
Sustainable stickers come in a lot of different forms, like our compostable noissue Stickers and noissue Shipping Labels, so we encourage you to check out all of our other available options to find the one that you want to stick with!
How should I dispose of the release liners from the Recycled Stickers?
The release liners used for our Recycled Stickers are recyclable, so be sure to dispose of them appropriately at home or at a facility.
How thick are the Recycled Stickers?
Our Recycled Stickers have a paper weight of 50lbs (50#). For more info on paper weight/thickness, check out this article!
What sizes and shapes are available for the Recycled Stickers?
The size options for our Recycled Stickers vary between the 3 available shapes - circle, square, and rectangle:
For circle and square stickers:
- 25mm x 25mm (1" x 1")
- 40mm x 40mm (1.5" x 1.5")
- 50mm x 50mm (2" x 2")
- 75mm x 75mm (3" x 3")
- 100mm x 100mm (4" x 4")
For rectangle stickers:
- 25mm x 50mm (1" x 2")
- 25mm x 75mm (1" x 3")
- 40mm x 60mm (1.5" x 2.5")
- 50mm x 80mm (2" x 3.2")
- 50mm x 100mm (2" x 4")
- 75mm x 125mm (3" x 5")
- 75mm x 155mm (3" x 6")

If you're looking to show off your design's unique shape, check out our compostable Custom Die Cut Stickers!
What finish do the Recycled Stickers have?
Our Recycled Stickers are made from 100% recycled paper and don't have a shiny plastic coating like other stickers do, so you can expect the finish to be more matte than glossy.
How are the Recycled Stickers printed?
Our Recycled Stickers are customized via digital printing with water-based inks in CMYK colors. This means you can use as many colors as you'd like for your sticker design without worrying about any toxic inks. Double-sided printing is not available for these stickers, but 1 side is all you'll need for beautiful branding!
Can you help with my Recycled Stickers design?
We're always here to lend a hand in making your perfect Recycled Stickers - be sure to check out the Print Perfect Checklist for our print requirements and dielines! Here are some starting design tips to get the best printing results:
- Text height should be at least 0.8mm.
- Line thickness should be at least 0.2mm.
- Bleed area should be at least 1.6mm all around.
Don't forget that our incredible Pre-Press Team is always here to help you out, too, and we'll ensure you're happy with your final design before we get stuck in.
Do the Recycled Stickers come in rolls or sheets?
To maintain the integrity of the product, especially during shipping, our Recycled Stickers come in flat sheets rather than rolls.
If you're looking to purchase rolls, be sure to check out our Custom Roll Labels!
Are the Recycled Stickers waterproof?
To keep them eco-friendly, our Recycled Stickers don't have a plastic coating, which does mean that they are not waterproof - a worthy trade off to keep our planet happy!
If you're looking for waterproof stickers, check out our Custom Coated Labels instead.
Can I order clear/transparent stickers?
While we can help with a custom order for clear/transparent stickers, please keep in mind that these would not be eco-friendly as they would need a PE or silicone coating. We also require an MOQ of 10,000 units for custom clear/transparent stickers. If this sounds like the way to go for your needs, just let us know here, and we can help connect you to the right team to make it happen!
Be sure to also check out our classic compostable noissue Stickers for another great option, and watch the video below to see them in action! If you want to see more fun and informative videos like this one, subscribe to our YouTube channel:
If you have any other questions about our Recycled Stickers, just reach out to us here, and we'll be happy to help!