Take your packaging to the next dimension, and dare tube be different with Custom Paper Tubes!
These stylish cylinders have a removable lid so you can keep things contained and also get to the good stuff. Print your custom design on 3 different bases and 5 versatile sizes. Whether you reuse them or recycle them, these tubes are an eco-friendly option with endless possibilities - FDA-approved, FSC-certified, and noissue-recommended.
Click here for the full scoop including pricing, lead times and order quantities!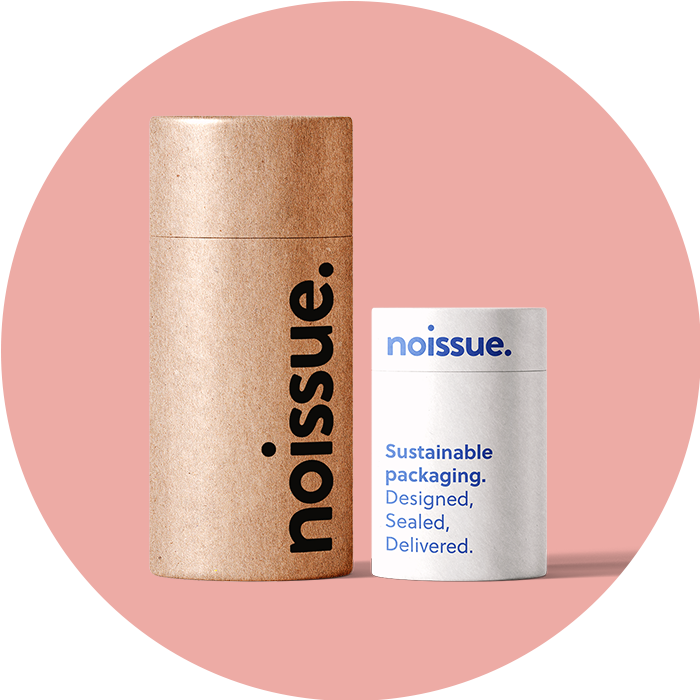 What makes the Custom Paper Tubes eco-friendly?
Our Custom Paper Tubes are made of FDA-approved foodsafe kraft paper that is certified by the Forest Stewardship Council™ (FSC). Soy-based inks keep your tubes eco-friendly even when printed with your custom design. They're made with goodness in mind, and they're totally recyclable (or reusable!) when you're ready to part with them.

This makes our Custom Paper Tubes a circular economy product, which is a term used to describe products that are designed to be repurposed or alternatively disposed of in an effort to reduce waste. You can read more on that here, and you can watch this video on it as well:
Are the Custom Paper Tubes foodsafe?
Looking to store some snacks? We've got you covered - our Custom Paper Tubes are made from FDA-approved foodsafe kraft paper.
While you're at it, check out our FDA-approved noissue Food Wrapping Paper as well for a culinary companion.
What sizes and thicknesses are available for the Custom Paper Tubes?
The walls of our Custom Paper Tubes are a sturdy but slim 2mm thick for all 5 size options below (inner height x inner diameter):
- 102mm x 99mm (4'' x 3.9'')
- 114mm x 95mm (4.5'' x 3.75'')
- 165mm x 83mm (6.5" x 3.25")
- 216mm x 95mm (8.5'' x 3.75'')
- 254mm x 89mm (10'' x 3.5")
What is the finish on the Custom Paper Tubes?
The Kraft, White, and Black bases for our Custom Paper Tubes are all uncoated and come in a natural finish.
What color/printing options are available for the Custom Paper Tubes?
Our Custom Paper Tubes are customized via CMYK screen printing with soy-based ink, which means you can design it with as many colors as you'd like on the outside - yes, you can even print on the lid! Choose between 3 bases to print your designs on:
- Kraft
- White
- Black
Can you help with my Custom Paper Tubes design?
We're always here to lend a hand in making your perfect Custom Paper Tubes. Be sure to check out the Print Perfect Checklist for our print requirements and dielines! Here are some starting design tips to get the best printing results:
- Text height should be at least 0.8mm.
- Line thickness should be at least 0.2mm.
- Extend your design to the yellow and black lines on the design template to ensure there's ample bleed space for your lid and body designs, respectively.
Don't forget that our incredible Pre-Press Team is always here to help you out, too, and we'll ensure you're happy with your final design before we get printing.
You can also check out our Stock Paper Tubes if you want to keep things simple (and sustainable!).
If you have any other questions about our Custom Paper Tubes, just reach out to us here, and we'll be happy to help!