If there was a prize for phenomenal packaging choices, it'd be the Recycled Satin Ribbon!
This custom recycled PET double-face satin ribbon is GRS-certified and rolls out in 2 different colors, 2 sizes, and 1 sided printing of whatever design you choose to create your perfect branded bow. To tie it all together, you can reuse your ribbon over and over again, so it's not sat-in the trash.
Head here for the full scoop including pricing, lead times and order quantities!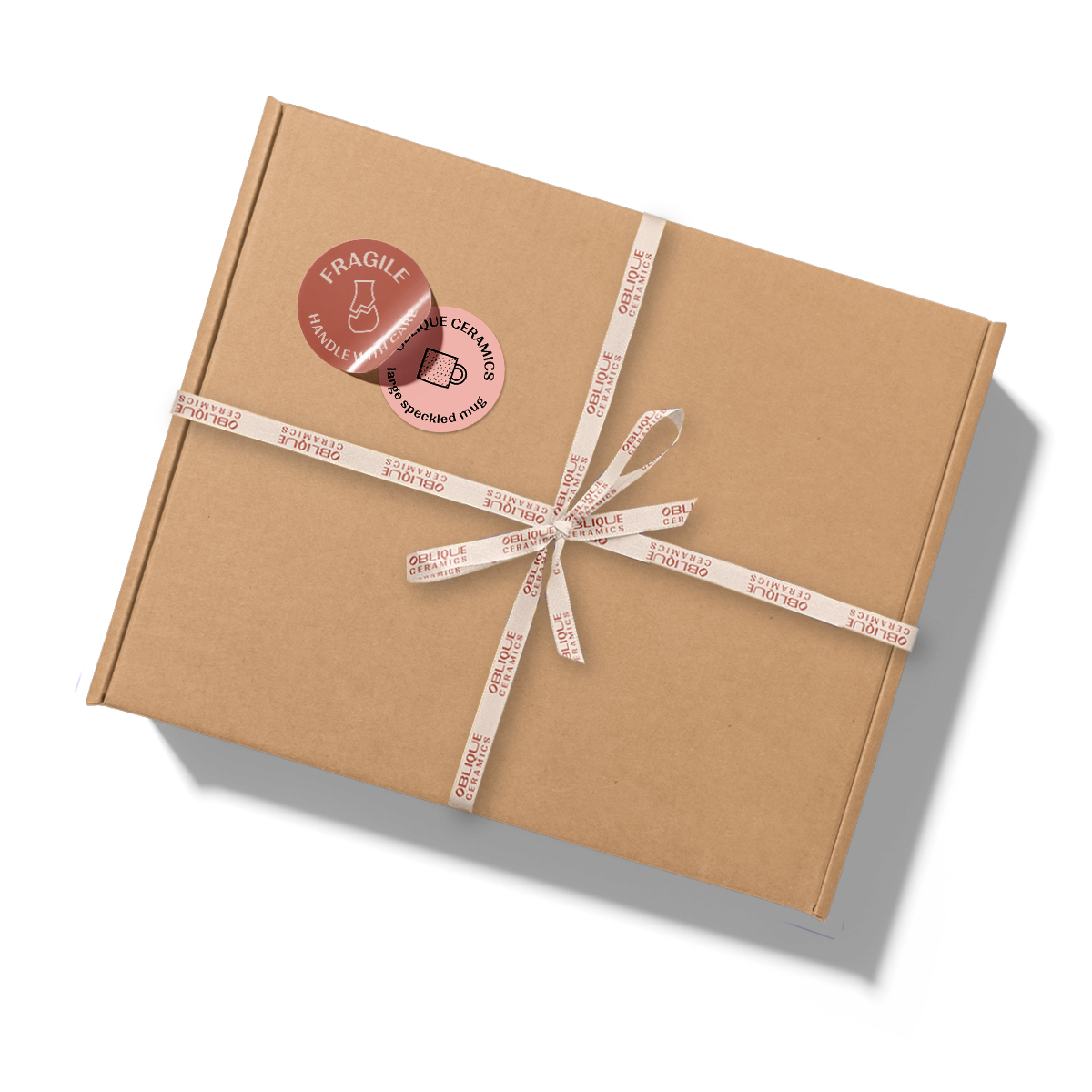 What makes the Recycled Satin Ribbon eco-friendly?
Our Recycled Satin Ribbon is made of 100% recycled PET (polyethylene terephthalate) plastic bottles - GRS-certified (Global Recycled Standard), so you know it's the real deal - and your design is printed with nontoxic dry foils. These ribbons are meant to be used and reused, so you can keep rolling until you're ready to put your ribbon to rest.
This makes the Recycled Satin Ribbon a circular economy product, which is a term used to describe the continuous use of resources in an effort to reduce waste. You can read more on that here, and you can watch this video on it as well:
What sizes and thicknesses are available for the Recycled Satin Ribbon?
You can choose between 2 different sizes/widths for your Recycled Satin Ribbon:
- 16mm x 91m (5/8" x 100 yards)
- 22mm x 91m (7/8" x 100 yards)
Our Recycled Satin Ribbon has a thickness of 0.22mm, and it comes neatly rolled so you can easily roll it back out without getting tied up.
What is the finish on the Recycled Satin Ribbon?
Both sides of our Recycled Satin Ribbon are shiny and soft for that luxurious finish. Who says fancy can't be eco-friendly?
What color/printing options are available for the Recycled Satin Ribbon?
Our Recycled Satin Ribbon is customized with nontoxic dry foils via hot stamping, where heat and pressure are used to adhere the pigment to the ribbon. Double-sided printing is not an option for this product at the moment, but we'll make sure your 1 side is just as impactful as 2!
Choose between 2 base colors to print it on:
- White
- Black
For your design, you can select 1 Pantone color from our 32 available options: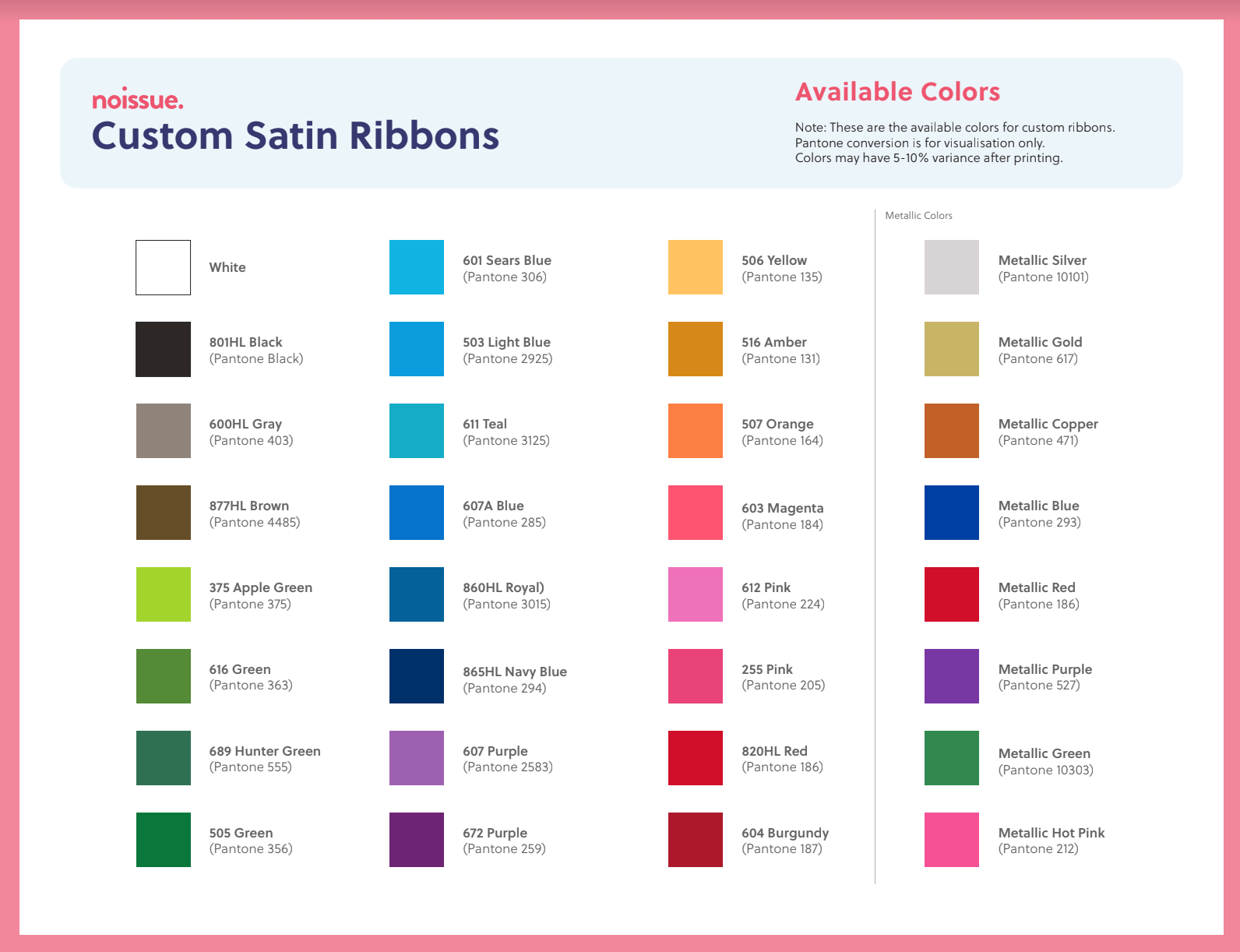 Can you help with my Recycled Satin Ribbon design?
We're always here to lend a hand in making your perfect Recycled Satin Ribbon - be sure to check out the Print Perfect Checklist for our print requirements and dielines! Here are some starting design tips to get the best printing results:
- Text height should be at least 0.8mm (5pt).
- Lines and strokes should be at least 0.2mm thick.
- To avoid key design elements from being cut off, keep them at least 3mm away from the trim line.
Don't forget that our incredible Pre-Press Team is always here to help you out, too, and we'll ensure you're happy with your final design before we press on.
P.S. If you're looking for something on the sticky side to keep your packaging together, check out our custom compostable noissue Tape and noissue Washi Tape!
If you have any other questions about our Recycled Satin Ribbon, just reach out to us here, and we'll be happy to help!