The original noissue Tissue is a testament to our vision and commitment toward a sustainable future for custom packaging. Join the movement!
noissue Tissue is made from recycled materials, and it's 100% compostable and recyclable at the end of the day. Printed with soy-based inks on FSC-certified paper, our tissue is acid-free, sulphur-free, and lignin-free, making it completely guilt-free as well! Choose from different sizes, colors, and thicknesses to create that perfect packaging you've always dreamed of.
Get the lowdown on pricing, lead times, quantities, etc., and start designing your tissue here!
What makes noissue Tissue eco-friendly?
noissue Tissue is 100% compostable, recyclable, and made from 30% recycled materials! We use paper that is acid-free, sulphur-free, lignin-free, and certified by the Forest Stewardship Council™ (FSC), so you know it's the real deal. Your design is also printed with soy-based inks only, which ensures that it won't interfere with compostability.
Check out our tips on composting at home here!
Is noissue Tissue foodsafe?
Packing up some treats? Lucky for you, noissue Tissue is foodsafe, but we also recommend checking out our FDA-approved noissue Food Wrapping Paper and Custom Wax Paper, if you're specifically looking for something to spice up your food presentation!
What sizes are available for noissue Tissue?
You can order your noissue Tissue in 2 sizes: 380mm x 500mm (15" x 20") or 500mm x 750mm (20" x 30"). Choose the one that fits your needs best, or order some sheets in both to mix and match! Here's a handy comparison photo for reference:

How thick is noissue Tissue?
The thickness of your noissue Tissue will vary depending on your design. If your design only requires only 1 color to be printed (i.e. a 1 color logo on standard white tissue), the thickness will be 17gsm, which is the standard thickness for tissue paper. If your design requires 2 colors or full bleed printing, the thickness will be 28gsm.
For more info on paper weight/thickness and GSM, check out this article!
How is noissue Tissue printed?
noissue Tissue is customized via offset printing with soy-based inks in Pantone colors. Double-sided printing for this item isn't available at the moment, but we'll make sure that your 1 side looks just as good as 2.
Speaking of 1 side, please keep in mind that all tissue is printed on 1 side of our white tissue base. This means that if you have a full color background, the front of your tissue will have the full color, while the back side of your tissue will be translucent white. Check out the video below for an example of this from Octavia Thorns of Pretty In Ink Press:
How many colors can be printed on noissue Tissue?
When you go to order your noissue Tissue, you'll see that our online design editor allows 1 and 2 color tissue designs. White doesn't count as a color, so if your color scheme is black and white, it'll be considered as just a 1 color design (black).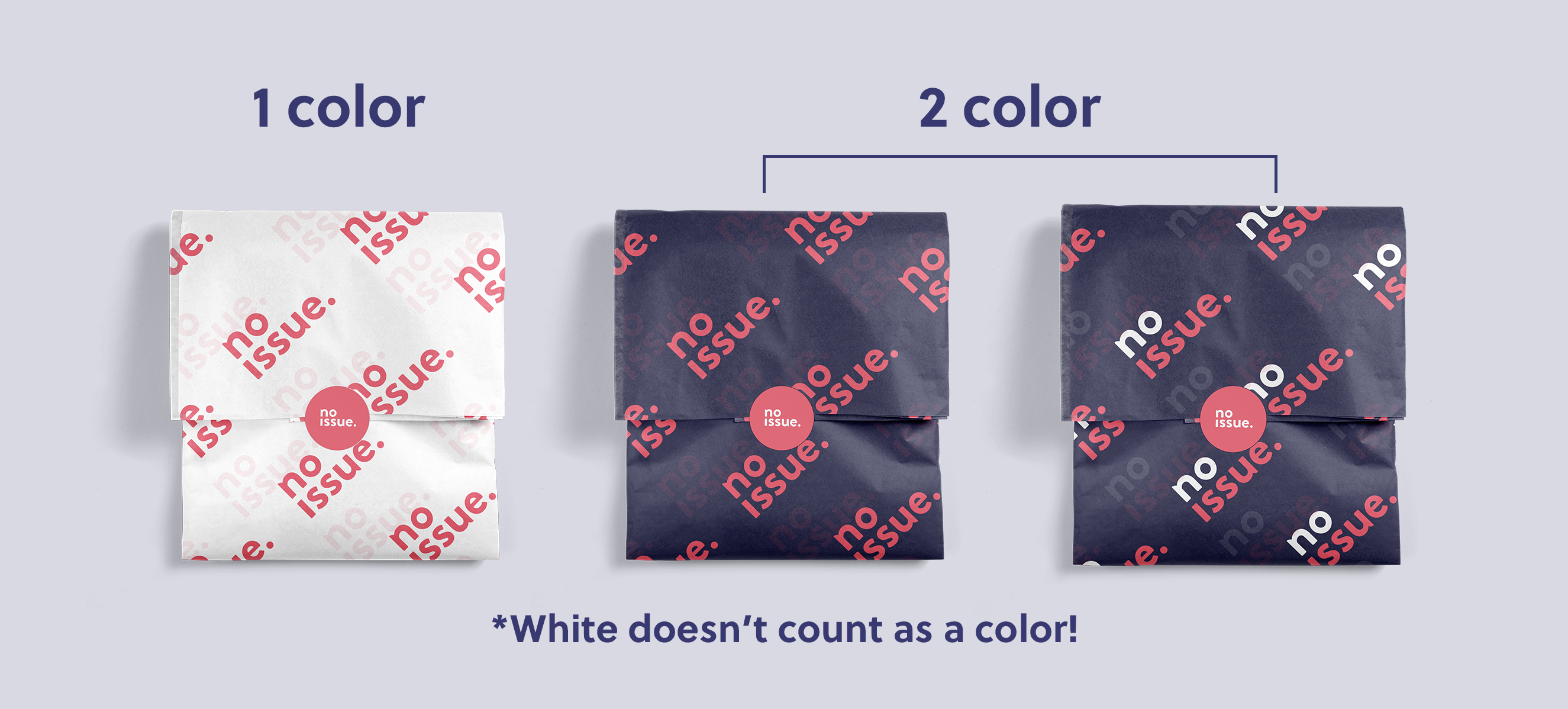 If you want to use more than 2 colors in your noissue Tissue design, just get in touch with the team here, and we'll help you choose up to 6 colors at an additional cost.
Can you help with my noissue Tissue design?
We're always here to lend a hand in making your perfect noissue Tissue - be sure to check out the Print Perfect Checklist for our print requirements and dielines! Here are some starting design tips to get the best printing results:
- Text height should be at least 0.8mm (larger may be required depending on design color)
- Line thickness should be at least 0.3mm.
- Bleed area should be 1cm per side.
Don't forget that our incredible Pre-Press Team is always here to help you out, too, and we'll ensure you're happy with your final design before we wrap things up.
How is noissue Tissue packaged for shipping?
We ship all noissue Tissue orders as flat sheets in noissue boxes that offer full protection and a convenient tissue drawer: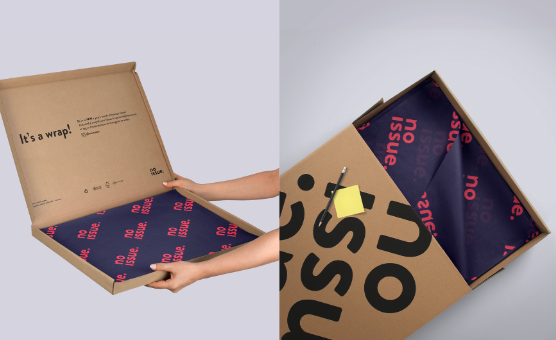 How should noissue Tissue be stored?
To best preserve the quality of your noissue Tissue, we recommend storing it at room temperature and out of the light, ideally in the box it came in.
Check out our YouTube channel to watch the noissue Tissue in action, along with other informative and fun videos. If you have any other questions, just reach out to us here, and we'll be happy to help!