Styled, sealed, delivered - serve up your treats the right way with Custom Wax Paper. Customize your very own foodsafe and greaseproof paper that's recyclable, FSC-certified, FDA-approved, wax coated - need we go on?
Click here for the full scoop including pricing, lead times and order quantities!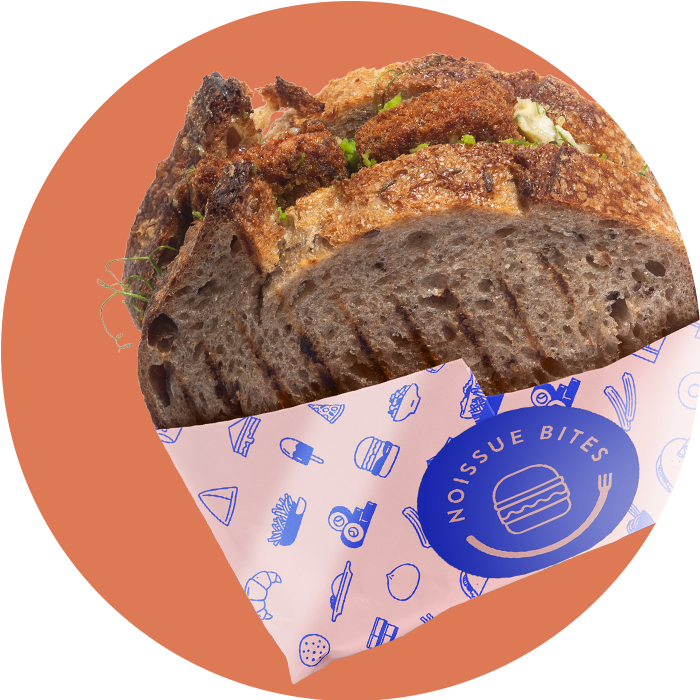 What makes the Custom Wax Paper eco-friendly?
Coatings don't have to be cruel - our Custom Wax Paper is 100% recyclable! It has a wax coating over acid-free paper that's certified by the Forest Stewardship Council™ (FSC), and it's printed with water-based foodsafe inks so everything stays in good taste.
What certifications does the Custom Wax Paper have?
Our Custom Wax Paper, as well as our noissue Food Wrapping Paper, have 2 certifications, so you can be confident in your choice:
- FDA-approved for use with food products
- FSC-certified to confirm its made with sustainably sourced materials
What sizes are available for the Custom Wax Paper?
You can order your Custom Wax Paper in 7 sizes that you can mix and match to suit your food presentation needs:
- 150mm x 150mm (6" x 6")
- 150mm x 200mm (6" x 8")
- 180mm x 250mm (7" x 10")
- 200mm x 200mm (8" x 8")
- 250mm x 250mm (10" x 10")
- 300mm x 300mm (12" x 12")
- 300mm x 420mm (12" x 16.5")
How thick is the Custom Wax Paper?
Our Custom Wax Paper has a thickness of 40gsm, which allows it to be flexible enough for presentation, yet sturdy enough for performance.
For more info on paper weight/thickness and GSM, check out this article!
Is the Custom Wax Paper coated?
If it's in the name, you know we mean it - our Custom Wax Paper is wax coated, safe and secure for your food needs. While this paper should work great in the freezer, we don't recommend using it in the oven or microwave due to the wax coating.
How is the Custom Wax Paper printed?
Our Custom Wax Paper is customized via offset printing with water-based foodsafe inks in Pantone colors. Double-sided printing for this item isn't available at the moment, but we'll make sure that your 1 side looks just as good as 2. Choose from 2 different bases to print your design on:
- White
- Kraft
If you want to be extra savvy, check out this article on using color theory to make your food look irresistible!
Can you help with my Custom Wax Paper design?
We're always here to lend a hand in making your perfect Custom Wax Paper - be sure to check out the Print Perfect Checklist for our print requirements and dielines! Here are some starting design tips to get the best printing results:
- Text height should be at least 0.8mm (larger may be required depending on design color)
- Line thickness should be at least 0.3mm.
- Keep important elements at least 5mm away from the trim lines to avoid being cut off.
Don't forget that our incredible Pre-Press Team is always here to help you out, too, and we'll ensure you're happy with your final design before we wrap things up.
Check out this article for a complete guide to Custom Wax Paper. If you have any other questions, just reach out to us here, and we'll be happy to help!